Santa's helpers support key workers and their children with good h-elf
24 Dec 2020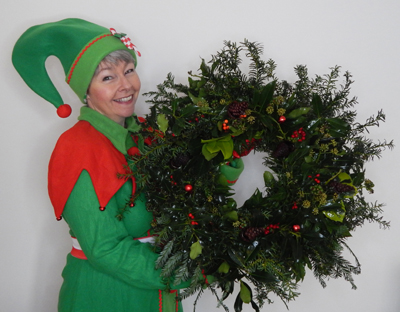 One of Santa's helpers is bringing seasonal sparkle to children of council key workers who have been in the frontline helping West Suffolk communities during COVID.
Suzie-Elf (aka Suzanne Stevenson), a key worker herself, when not helping Santa, is part of a group of staff at West Suffolk Council who have been supporting frontline workers and the community to help improve mental health and wellbeing.
She is making sure the children have some extra Christmas cheer and a thank you, especially as many of their parents have been working long and unusual hours during the pandemic.
As Suzie-Elf, she has been running online story times for children, including the use of British Sign Language and Makaton to make sure no one misses out. The children have met her in her COVID safe virtual North Pole grotto, where they have some laughs and receive a small gift 'by magic'.
Santa has also been telling her one or two things that each child has done in 2020 that qualify them to go on the 'Good List' which she weaves in to make them feel super important and valued by all at the North Pole.
A group of West Suffolk Council staff have been championing wellbeing both for fellow employees and the wider community during the year and at Christmas. This has included social distanced walks and running quizzes and offering support, all in their own time.
Suzie-Elf's normal day job, Project Manager for Social Prescribing, provides the LifeLink scheme across West Suffolk. This brings the public, health, private and voluntary sectors together to work with individuals on a range of health and wellbeing issues
The Christmas Grotto was accessible to all and provision had been made to accommodate children or young adults with additional needs, or who use British Sign Language, Makaton or alternative communication (Suzie-Elf was a teacher in primary, middle and special schools in a previous life).
Suzanne said: "Christmas 2020 is going to be different, so we're doing something to make sure the little ones can still visit the grotto, enjoy some treats, dress up and enjoy silly festive story times. I am just one of many at the council helping others and our colleagues in what has been a tough and challenging year."
Councillor John Griffiths, Leader of West Suffolk Council, said: "The past year has seen many examples of this fantastic spirit, with council staff acting with thoughtfulness and care for our communities and one another. The families and children of all key workers have been essential in supporting staff to carry out their jobs over long hours and in sometimes very challenging conditions, so it is lovely to see them being helped. This Christmas may be smaller for many but the best things often come in small parcels. Thank you to everyone who is showing the spirit of Christmas by giving and caring for others."
---