Consultation on West Suffolk public space protection orders
15 Jan 2021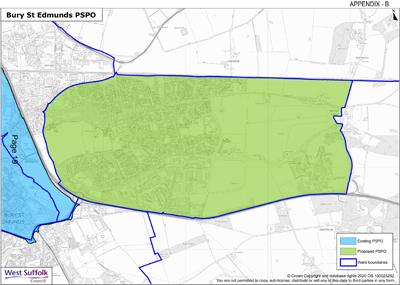 Residents are to have their say on bringing in or removing legal orders designed to help Police in West Suffolk target enforcement against antisocial behaviour and use of alcohol.
West Suffolk Council Cabinet will consider in March the results to consultations on changes to or new public space protection orders (PSPOs). This includes a new order to clamp down on antisocial driving in the Moreton Hall area of Bury St Edmunds.
PSPOs give powers to enforce against antisocial behaviour and specific issues such as use of alcohol in targeted locations and must be reviewed every three years.
Members of West Suffolk Council's Overview and Scrutiny Committee backed the plans for the consultations which will run from 18 January to 22 February 2021.
A residents' association has asked for the new order designed to help the police clamp down on antisocial driving in Moreton Hall. This is supported by the Police who report that antisocial driving is a longstanding concern of residents within the estate. The Police reported that although COVID-19 has had an impact and reduced the number of vehicles in the area, concerns are still being expressed by residents.
Also residents will get to have their say on removing the Tudor Court area from the existing Public Space Protection Order for Haverhill (restricting the consumption of alcohol within the specified area). When the PSPO was made the area was recreational land but now it is residential. Haverhill Town Council has asked for it to be removed from the order.
PSPOs have to be reviewed regularly and any new ones or changes have to be consulted upon and must meet strict evidenced criteria. In September 2020, Cabinet agreed to extend existing West Suffolk PSPOs for a further three years but to look at the changes in Bury St Edmunds and Haverhill. It was also agreed to consider a new PSPO for Moreton Hall and variation of the Haverhill PSPO, both of which require consultation to provide robust evidence to support a final decision due to be made in March.
The results of the consultations will be examined by West Suffolk Cabinet when it meets in March this year, 2021.
Councillor Robert Everitt, Cabinet member for Families and Communities said: "These orders are an important way we can support communities and the Police deal with specific antisocial behaviour issues. By nature, they must respond to local issues and the changing situations in our communities which is why they must also be regularly reviewed and backed by evidence to deal with local problems as they occur or be changed to reflect local need. The orders are also a good way for local residents to influence their area and reduce anti-social behaviour where it occurs. But they are just one of the many tools employed by the Police and enforcement agencies across West Suffolk to support local residents and are part of how communities and public services can work together on a problem.
"These powers are most effective when enforced in defined locations and against specific antisocial behaviours. But they have to be supported by robust evidence of need, and I encourage all those affected to provide that evidence by taking part in the consultations."
Consultations runs from 18 January to 22 February and can be found online at www.westsuffolk.gov.uk/consultations
---