New recycling campaign aims to get Suffolk's recycling right
25 Jan 2021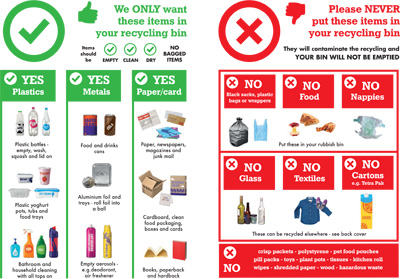 A new campaign has been launched in Suffolk to help people get their recycling right. 
Each year more than 10,000 tonnes (about 20%) of recycling from Suffolk homes is rejected due to the wrong items being placed in Suffolk's recycling bins. This is the same as 1 in 5 lorries full of recycling going to waste. The cost of sorting and disposing this spoiled recycling is more than £1million.
The new awareness campaign, launched by the Suffolk Waste Partnership is called Together We Can Get Our Recycling Right. It includes a leaflet to all households (attached) with the do's and don'ts of what can easily be recycled at home, plus tips on how to recycle other items not accepted in home recycling bins. The campaign will be supported on the Suffolk Recycling website and social media channels.
Councillor James Mallinder, Chair of the Suffolk Waste Partnership said: "Recycling is one of the easiest things we can all do to play our part in reducing carbon emissions and cutting down on our waste. 
"However, it is essential we make sure we put the right things in our recycling bins. Since the pandemic we have seen an increase in the wrong items being recycled, so we hope that this campaign serves as a helpful nudge in making sure we get it right. 
"Our crews and staff at the recycling sorting centre have been working hard to maintain front line services. By ensuring we get our recycling right we can all help to make their jobs easier in these difficult times." 
There are three simple steps that householders can take to improve the quality of their recycling. These include: 
•  Put glass in a bottle bank, not in your wheelie bin
•  No bagged items. Keep your recycling empty, clean and dry 
•  Keep all food out of your recycling bin. Put any food you cannot eat or compost in your rubbish bin.
You can recycle the following items in your recycling bin at home: plastic bottles, pots, tubs and trays, metal cans, aerosols and foil and paper, card and books. The worst offending items incorrectly found in recycling bins include glass, black sacks, food waste, cartons and nappies. 
More information about what you can and can't recycle can be found at www.suffolkrecycling.org.uk or follow us on Twitter, Facebook or Instagram accounts 
---