Supermarket shoppers asked to shelve COVID-19 by sticking to the basics
28 Jan 2021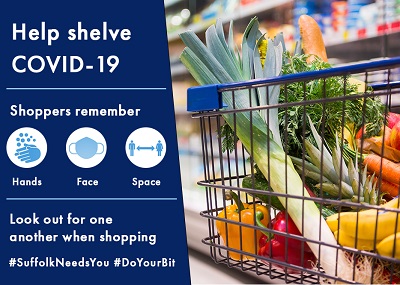 Suffolk needs supermarket customers to follow basic safety guidelines to stop COVID-19 from spreading.
Shoppers are being reassured that supermarkets are safe to visit, but shopping must be for essential items, the number of shopping trips should be minimised and you must shop alone wherever possible.
Supermarkets have been, with other retailers, at the forefront of putting in safety measures to reduce infection rates.
Suffolk's councils have been working with local stores to ensure that staff and customers are doing what they can to prevent the virus moving from person to person. Supermarkets have received written advice and guidance and council teams have been carrying out visits to talk with workers and shoppers.
If you are planning a trip to a supermarket or shop, it is important to follow these steps, even if you have received a vaccination:
Wash or sanitise your hands at the store entrance.
Wear a facemask, unless medically exempt.
Enter the shop alone unless you are assisting or caring for another.
Follow the signage and rules provided by the supermarket.
Only touch products that you are intending to purchase.
Keep your distance from other shoppers in the aisles and when in queues.
Wash or sanitise your hands at the store exit.
The Safer Places Working Group of the Suffolk Resilience Forum has been helping coordinate support for supermarkets.
David Collinson, co-lead for the group, said:
"I want to thank supermarkets and other stores for all they are doing to keep both shoppers and staff safe and able to buy essential goods. The latest variation of COVID-19 is transmitting much more easily and, sadly, we have seen more people dying. So it's incredibly important for stores and customers to do everything possible to keep each other safe and, ultimately, save lives. We all have that responsibility."
Graham Crisp, co-lead for the group, added:
"Our main role is to support businesses to understand the national guidance and how to keep their staff and customers safe. From visits that we have made, our experience is that the majority of stores have been good at responding to this and we continue to support businesses to be as safe as possible. But customers and stores are reminded that, although a last resort, enforcement is an option which can lead to fines or closures."
ENDS
Notes to editors
The Government has published more detailed information on its website: https://www.gov.uk/guidance/coronavirus-covid-19-accessing-food-and-essential-supplies
There are many sources of support available for Suffolk's business, further information can be found at: https://www.suffolk.gov.uk/coronavirus-covid-19/advice-for-businesses/
Suffolk Resilience Forum
The information above has been issued on behalf of the Suffolk Resilience Forum. The forum is comprised of the Suffolk's NHS, Emergency and Public Services, working together to keep the county safe.
For more information about the Suffolk Resilience Forum, visit www.suffolkresilience.com
---