Community Chest investment will help the lives of West Suffolk residents
09 Feb 2021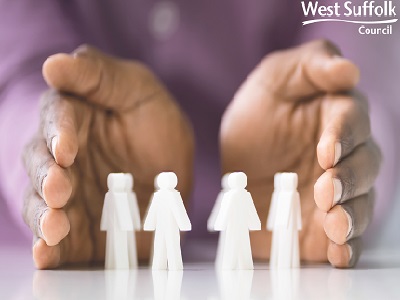 Community initiatives providing counselling, support, and improving the health and wellbeing of West Suffolk residents, are all to receive Community Chest funds.
More than 30 community groups, charities and voluntary organisations are to receive funding, following a decision by West Suffolk Council's Cabinet this evening.
Since it first launched in 2015, Community Chest had already invested to more than £2.5m in community initiatives designed to help West Suffolk residents. This figure does not include 2021-22 funding.
West Suffolk made £466,733 of Community Chest funding available for 2021-22 and the council received a record number of applications.
A Grant Working Party had to hold three meetings totalling some 12 hours to consider the 62 applications based on the information submitted and the scheme criteria. It then made recommendations to Cabinet for Community Chest grants totalling £466,733 to be made to 33 organisations. This evening, Cabinet agreed to those recommendations. The council will give advice to the remaining applicants including suggesting other funding schemes that they can approach.
Councillor Robert Everitt, Cabinet Member for Families and Communities at West Suffolk Council, said: "We invest in our communities, in their lives, their experience and their ideas on how to help the people in their neighbourhoods and beyond. This year saw a record number of applications and I'm very grateful to the work of the Grant Working Party, chaired by Councillor Jim Thorndyke, for going through all of the applications so meticulously.
"This year Community Chest is investing in schemes to help people struggling with their finances and debt, disadvantaged people within our communities, and when it is safe, it will be bringing people of all ages together through lunch clubs and shared sports facilities.
"We are also investing in initiatives to help people cope with life's challenges. From those that feel isolated and alone, those that have been through traumatic experiences of abuse and those who have been left reeling from personal tragedy. And we are investing in support services for individuals and for families as well as promoting health and wellbeing which will be a major part of the COVID-19 recovery.
"This past year has been challenging. We are still not out of the woods, but our work with our communities has helped us support some of the most vulnerable in West Suffolk. It has been a difficult year but it has brought out some of the best in people, and I'm delighted that we are investing in these brilliant community initiatives across West Suffolk, for the benefit of residents in all of our towns and villages."
This year, Community Chest will be investing in the following:
Advice and advocacy
Reach Community Projects, Haverhill - £10,000 - for Delivering a Debt Prevention Project, aimed at those impacted financially by COVID-19, but with more general, longer term application in Haverhill and further afield.
West Suffolk Citizens Advice, West Suffolk - £204,000 - Provision of information, advice and advocacy across the West Suffolk area, including financial capability work in the wider community.
Arts, sports and young people
Friends of Priory School, Bury St Edmunds - £5,304 - For collaboration with Greener Growth that will see students work to enhance outdoor and indoor spaces.
Haverhill Community Trust, Haverhill - £6,900 - To build youth engagement around the HAVE YOU website and social media project. Young people will lead the conversation, alongside professionals from relevant organisations. This will enhance youth voice in the Western area and enable HAVE YOU to connect young people to local skills and support services.
Student Life, West Suffolk - £5,000 - To roll out a mental health support for young people project to all secondary and upper schools in West Suffolk.
Community activities
Greener Growth CIC (Community Interest Company), West Suffolk - £2,660 - To work with young people, ex-offenders and disadvantaged communities across West Suffolk. The grant will be used for supporting the establishment of a Volunteer Development Coordinator contract.
Suffolk Accident and Rescue Service (SARS), West Suffolk - £10,000 - Funding will support training; equipment and the core charity costs which support SARS resources that are active in the West Suffolk area.
Community buildings
Risby Village Hall, Risby - £1,340 - for funding for floodlights for its multi use games area (MUGA).
St John's Church, Beck Row - £2,000 - to develop more lunch clubs for the elderly and young children on a regular basis to enable them to be better fed and interact over the age groups.
Counselling and specialist services
Alumah CIO - £5,880 – providing early intervention to support domestic abuse victims. Project funding will reach young people, showing them healthy and unhealthy relationships, through interactive workshops, one to one interventions and group work.
Bury Women's Aid, West Suffolk - £6,280 - to develop and expand Healthy Relationship Programme, working with schools and community groups to deliver a bespoke service to young people aged 11 to 19 years.
Fresh Start New Beginnings, West Suffolk - £10,000 - to cover the salary costs of specialist workers to work with children and their families to help them recover and move forward from the traumatic and life altering changes that sexual abuse disclosure brings about.
Relate, West Suffolk - £5,000 - to develop and create a new digital service to support people regardless of their financial situations and location. Relate is stepping up its telephone and webcam provision in response to COVID-19.
Suffolk Cruse Bereavement, West Suffolk - £5,738 - to maintain and operate the Contact Line - the first port of call for all telephone calls and emails for bereaved people who are seeking support, information and advice in Suffolk.
Suffolk Rape Crisis, West Suffolk - £5,625 - To support the SRC counselling service in West Suffolk. The counselling service supports women and girls (14 and over) who have experienced any form of sexual violence or abuse.
Family support
Best Before Project, Bury St Edmunds - £8,740 - to continue the employment of our Project Coordinator (PC) following receipt of a WRAP Covid-19 Emergency Support Grant.
Epic Dads CIC, West Suffolk - £14,500 - project funding to recognise the need and importance in supporting new and expectant dads, creating family involvement and mental wellbeing for young families.
Homestart in Suffolk, West Suffolk - £7,000 - to increase the provision of core Home-Start home visiting service to isolated families in Suffolk.
Homestart Mid and West Suffolk - £9,510 - the project is designed to provide an outdoor Education Forest school programme for children with additional needs. The funding will support the forest school leaders' expenses and SEND Coordinators wages, travel expenses and resources.
Sharing Parenting – Family Outreach, West Suffolk - £13,000 - to further develop the role of the Special Educational Needs project worker covering Brandon, Lakenheath, Mildenhall, Newmarket, and Haverhill. Focusing on prevention, working in the primary years as this is where the biggest difference can be made.
St Peter's Church, Brandon - £9,623 - to run a weekly Repair and Share Shop from Church Institute. The Repair and Share Shop project will promote 'fixing things' as a part of everyday life, rather than the throw away culture that has grown across the UK.
Health and wellbeing
Art Branches CIC, West Suffolk - £9,600 - the project will provide a wellbeing creative service that can be accessed by adults who feel their wellbeing has been affected by COVID-19.
Headway, West Suffolk - £6,240 - to increase our rehab work post lockdown and to help clients with a neurological condition to gain confidence in order to continue with the rehab they had started.
Millennium Farm Trust, West Suffolk - £6,480 - to improve the lives of local people, particularly those with mental health difficulties, learning disabilities or other additional needs.
St Nicholas Hospice Trust, West Suffolk - £13,158 - funding towards employing two Community Connectors. The purpose of the roles is to generate community connections through the sensitive issues around dying, death and grief.
Suffolk Mind, West Suffolk - £5,360 - to run their EARLY Minds (Emotional Awareness and Resilience Learnt Young) project for six classes in Key Stage Two.
The Shed, West Row - £1,139 - the project is designed to promote health and well-being and help prevent social isolation through landscape management, cultivation and restoration of buildings. The aim is to encourage socialisation and nurture interests which then lead to building confidence.
Support groups and support services
Bury Drop In, Bury St Edmunds - £11,996 – for work supporting people who are homeless and those who have housing needs in Bury St Edmunds. This includes three sessions per a week, providing a safe place for people to meet where they are provided with a meal, friendship and are signposted to agencies.
Gatehouse, Bury St Edmunds - £15,000 - funding will be used for the community café which has been developed in response to the impact of COVID-19. The café is where anyone in the community but especially those living with challenging conditions or circumstances can come and have a drink and something to eat in a COVID safe, friendly and understanding atmosphere.
Lightwave, Red Lodge and Beck Row - £6,000 - to reduce isolation among vulnerable people in rural communities in the Red Lodge and Beck Row together with surrounding villages. Lightwave will provide food parcels (including basic toiletries) to those isolating and isolated and those recently unemployed.
Our Special Friends, West Suffolk - £10,660 - funding will assist the recruitment of an Animal Companionship Practitioner who will take on client case files, becoming the main point of contact for vulnerable adults who would benefit from animal companionship.
The Voluntary Network, West Suffolk - £12,000 - funding for Community Transport and Befriending Service across West Suffolk.
West Suffolk Vineyard Church, Bury St Edmunds - £6,000 - project funding will provide a variety of help and resources into the local community dealing with the most common needs at this time, especially those exacerbated by coronavirus and lockdown.
The grants also include an additional £10,000 for REACH Haverhill to assist poverty restore, encourage, action in the community. And £5,000 for Relate, helping people improve their relationships, delivering an inclusive, relevant and high-quality service and improve their understanding of relationships. Each grant was previously agreed in 2019-20 for projects separate to those above.
---