Any bin will do
24 Feb 2021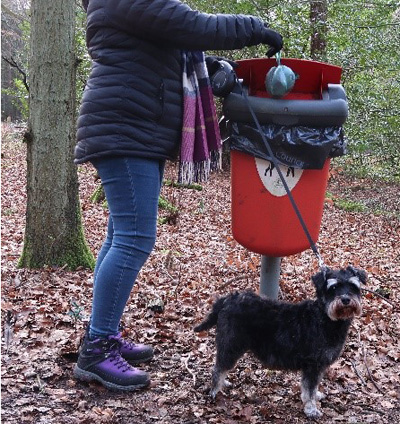 With walking on the increase in West Suffolk, dog owners are being reminded that any public litter bin will do for their dog poo bags.
West Suffolk Council is running the 'Bag it and Bin it' campaign, which also includes materials for town and parish councils, and other groups working to target local issues.
Dog fouling is continually voted among the worst forms of littering and while the overwhelming majority of owners dispose of their dog's poo in a responsible way, there is still too much left in situ or bagged but not binned.
The campaign will remind owners to take bags with them when they head out with their four-legged friend and that used dog poo bags can be placed in any public waste bin except recycling bins. If no bin is available then please take it home and put it in your black waste bin.
Councillor Peter Stevens, Cabinet member for Operations at West Suffolk Council said
'Recent months have seen a new awareness of protecting each other, and less tolerance for poor behaviour like dog fouling. Dog poo affects everyone, whether you're a dog owner or not. It's unpleasant in parks, on the pavement, and especially on your shoe. Most dog owners pick up after their dog, but some don't - giving dogs and their owners a bad name. It is clearly the responsibility of the person in charge of the dog and that is enforceable.'
If you are in charge of a dog then you must immediately clear up if it fouls in any area open to the public in West Suffolk. This is a legal requirement which was introduced on 1 October 2017 making all public spaces within West Suffolk subject to a Public Space Protection Order (PSPO). Allowing a dog to foul in an area open to the public without picking it up could result in a Fixed Penalty Notice of £80. If you do not pay the Fixed Penalty Notice then you could be taken to court and fined up to £1000.
Although the campaign encourages doing the right thing, it also calls for information to help tackle persistent problems. If you have witnessed dog fouling and are willing to provide a witness statement, please phone Customer Services 01638 719000 or 01284 763233 in confidence, or email customer.services@westsuffolk.gov.uk
---