More support for West Suffolk community and voluntary groups
25 Feb 2021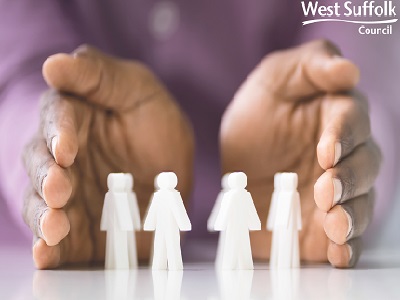 In recognition of the crucial role community and voluntary groups across West Suffolk will play in the recovery phase, the Council and Community Action Suffolk have announced the first in a series of support events.
West Suffolk Council has been working with many community and voluntary groups throughout the pandemic particularly through the Home But Not Alone service coordinating helping get food and medicine to those who were clinically vulnerable.
The Council's annual Community Chest grant scheme saw a record number of applications with £466,733 of funding available. Following careful consideration across three meetings, a Grant Working Party recommended Cabinet approve funding to 33 organisations and that further support be offered to all 62 applicants.
West Suffolk has written to all 62 applicants and is also inviting other organisations to take part on these online capacity training courses being held in partnership with Community Action Suffolk.
The first one, which will look specifically at successful crowd funding takes place on 17 March. It is being part funded by the council and is offered at a subsidised rate of £10 per applicant. Register at https://crm.communityactionsuffolk.org.uk/civicrm/event/info?id=1269&reset=1
The next – Finding useful local data and information to support funding bids – is supported by Suffolk Observatory, is free and takes place on 26 April. Register at www.communityactionsuffolk.org.uk/event/finding-useful-local-data-and-information-to-support-funding-bids-including-up-to-date-data-on-coronavirus/
Running alongside these workshop events, community and voluntary groups are also invited to book a free funding surgery one to one with Community Action Suffolk at www.communityactionsuffolk.org.uk/events/list/?tribe_eventcategory%5B0%5D=202&amp%3Bqid=
Councillor locality budgets are also available and families and communities officers at the council can also offer advice and support – email families.communities@westsuffolk.gov.uk
Cllr Robert Everitt, Cabinet Member for Families and Communities said: "We have been supporting and investing in the work of community groups, voluntary organisations and charities across West Suffolk for a number of years. The importance of their work has perhaps been no better demonstrated than in these past 12 months of the pandemic. Physical and mental health and wellbeing, loneliness, isolation, and helping people through tragedy and trauma, are all part of the work that many of these organisations do, and their role will be just as vital in the recovery phase. That is why I am pleased to be offering the first of these workshops in partnership with Community Action Suffolk."
---