West Suffolk sees affordable homes growth despite pandemic
18 Jun 2021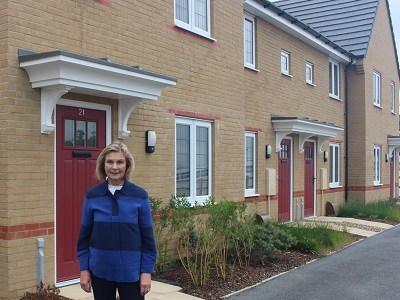 The challenges of the pandemic hasn't stopped West Suffolk Council, working with developers and registered providers, achieving above target on affordable homes.
There is a huge need for all types of housing across West Suffolk and despite the COVID-19 pandemic, developers across West Suffolk have continued to deliver on new homes.
A total of 840 new homes or conversions were delivered in West Suffolk in 2020/21 – and of these 297 were classed as affordable housing. This includes:
149 classed as affordable rent where the tenants will pay 80 per cent of the market rent
53 at social rent - homes available at an even heavier discount rent of around 65 per cent of the market value
95 made available under shared ownership schemes.
West Suffolk Council secures affordable housing firstly through its local plan which controls where housing growth can take place, and through planning policies which developers must adhere to. The Council's planning policy states that developments of 10 homes or more must include 30 per cent affordable housing.
But the actual number of affordable homes achieved during 2020/21 represents a delivery rate of around 35 per cent and part of this success is down to the work of the Council with registered providers who then manage the affordable housing schemes. Havebury Housing, Flagship Homes and Orbit Homes have all contributed by bringing forward 100 per cent affordable housing schemes. These include a scheme in Beck Row and additional purchases for shared ownership in Red Lodge.  
One of the biggest successes has been on one of the development phases at the new Marham Park estate in Bury St Edmunds built by Bloor Homes where 37 per cent of the homes were delivered as affordable homes. These are now managed by Clarion Housing.
Cllr Sara Mildmay-White, Cabinet member for Housing at West Suffolk Council, said: "We know that there is a huge need for new housing especially affordable housing in West Suffolk and that is one of the reasons that we created our own housing company, Barley Homes, to aid delivery.
"There are challenges in the housing market around supply and demand which greatly affects the levels of rent charged to private tenants. The delivery of the right mix of housing of different sizes for different needs is so important and affordable and social housing, managed through registered landlords, is a crucial part of that.
"While the number of affordable or social homes has grown during this pandemic year, so has the number of households on our housing register. So, while we are pleased to have secured more of these homes, we are not complacent, and recognise that more needs to be done, not just by West Suffolk Council, but all who are involved in housing delivery."
Richard Cook, Group Director of Development for Clarion Housing Group, said: "We're delighted to be working with West Suffolk Council to deliver much-needed affordable new homes on the new Marham Park estate. Thanks to our collaborative working with the Council and Bloor Homes, we've been able to deliver despite the impact of the pandemic, and the first residents have already moved into their new homes, enjoying all that the local area has to offer."  
---