Further investment to support West Suffolk families and communities
26 Jul 2021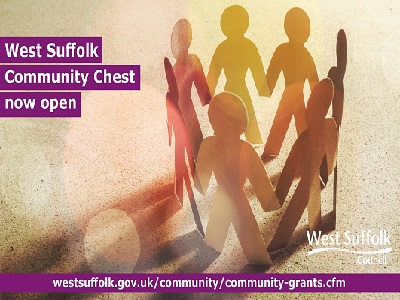 Community initiatives that will improve the lives of residents across West Suffolk helping health and wellbeing, can now apply for Community Chest funding.
West Suffolk Council's annual grants scheme is open to community groups, charities, voluntary organisations, faith groups and social enterprises. The Council is looking to invest more than £460,000 in 2022/23 in projects that meet its Families and Communities approach.
Cllr Robert Everitt, Cabinet Member for Families and Communities at West Suffolk Council said: "Our approach is about addressing the causes rather than the symptoms. If for instance, we can support an initiative that improves peoples' health and wellbeing by making them feel less socially isolated, less lonely or more connected to their local community, then that is good for everyone.
"Equally if we can invest in initiatives that support and empower families in whatever shape or form that may be, or that help people deal with trauma, break patterns of abuse, that brings people together or provides a network that can help them in their lives, then that can strengthen families and add resilience to our communities, all of which has wider benefits for our society.
"We have supported existing and newly formed community and voluntary groups in stepping up and providing practical and emotional help to those most vulnerable and in need during the pandemic. I'm proud of our West Suffolk communities and I'm delighted that we are able to continue to invest and support them in their work."
More than 30 organisations from across West Suffolk received Community Chest funding for this current financial year.
Among the counselling and specialist services to receive Community Chest was Suffolk Cruse Bereavement. It received funds to increase its Contact Line service. "The number of bereaved people who contacted us increased over the year, particularly when each lockdown eased. We also noted an increase in the complexity of our clients' bereavement and their needs and the funding helped us to ensure they were supported from their first contact with us," said area coordinator Susannah Downing.
Community Chest also supports health and wellbeing groups. Among those was Art Branches who received fund for its online support to adults with mental health issues ensuring it was able to continue to engage with people, keeping them connected during the pandemic. Director and founder Stephanie Hartick, said: "With the rise in mental health issues following the pandemic our online channel ensures we can offer ongoing creative support and encouragement for people across West Suffolk."
Head injury charity Headway which also helps survivors of neurological conditions, was able to help people through rehabilitation activities, using Community Chest to reopen its hub service. "The community Chest funding gave Headway Suffolk the confidence to open up its hub services in Bury St Edmunds," said chief executive Helen Fairweather.
Family support groups which received funds included the charity Still Good Food which aims to reduce food waste, save families money and educate people about the difference in meaning between the 'best before' and the 'use by' labels on food and drinks, said the Community Chest funds it received had been vital in enabling it to keep on two project coordinators. "Without them the project would not have been able to expand to meet the increased demand for our service that the pandemic has produced," said director Sarah Bullen. 
Community Chest also supports bringing people together for community activities and Greener Growth which promotes community volunteers working to improve biodiversity and growing their own food, used Community Chest funds toward putting in place a volunteer coordinator. "It has allowed us to offer more volunteer opportunities and support our communities," said Antonia Coleman from the community interest company.
And West Suffolk Citizens Advice was among the advice and advocacy services that received Community Chest support. It meant it was able to continue supporting people when restrictions stopped its face-to-face service.
"These funds contributed to us being able to put in place an emergency contact operation," said Business Development Officer, Tony Howard.
o apply for Community Chest funding, view the guidance and then complete the online application at https://www.westsuffolk.gov.uk/community/community-grants.cfm
The funding is for 2022/23. Applications are open until Midnight on Friday 29 October 2021. Successful grants will be awarded in February 2022 and paid in April 2022.
---