Deadline looms for applications to £460,000 Community Chest
04 Oct 2021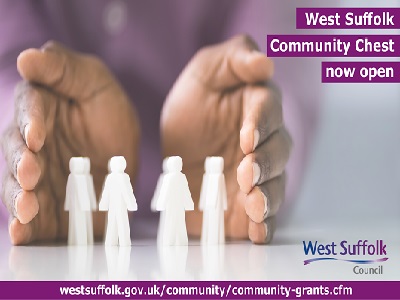 There are only weeks left for community groups, charities, voluntary organisations, faith groups and social enterprises to apply for funding from West Suffolk Council.
More than £460,000 is available with West Suffolk Council looking to invest money from its Community Chest fund into projects and service that will improve the lives of residents across West Suffolk helping health and wellbeing.
But the deadline is fast approaching, and all applications must be made no later than 11.59pm on Friday 29 October 2021.
Cllr Robert Everitt, Cabinet Member for Families and Communities at West Suffolk Council, said: "Since we launched Community Chest in 2015, we have been investing in the work of others to help improve people's health and wellbeing, make life better and put a smile on people's faces. We have been supporting early interventions to address issues before they spiral into worsening health or other crisis all of which can have a huge effect not just on the individual but also society as a whole.
"Some of the work we have supported has been about helping people feel less isolated, less lonely and more connected with their local community – that can have an amazing effect on people's spirits, seeing them laugh and smile again as they come together and make new friends. Some of it has been about building support networks and empowering families in what shape or form they may be, to cope with some of the terrible things that have happened such as trauma or abuse. All of it is about making our local communities even stronger and more resilient so they can help each other during the most difficult of times. This was perhaps no better illustrated than the community response to the pandemic where the Council supported existing and newly formed community and voluntary groups in stepping up and providing practical and emotional help to those most vulnerable and in need.
"I'm proud of our West Suffolk communities and I'm delighted that we are able to continue to invest and support them in their work."
Applications opened in July. The funding is for 2022/23. Successful grants will be awarded in February 2022 and paid in April 2022.
The minimum amount that can be applied for is £1,000. Community Chest funding can be for one off projects or revenue funds for services.
All applications should be in-line with West Suffolk Council's Families and Communities approach, details of which can be found online with other guidance and eligibility criteria. To apply for Community Chest funding, view the guidance and then complete the online application at https://www.westsuffolk.gov.uk/community/community-grants.cfm
More than 30 organisations from across West Suffolk received Community Chest funding for this current financial year. These include:
Counselling and specialist services such as Suffolk Cruse Bereavement which received funds to increase its Contact Line service
Health and wellbeing groups including Art Branches who received funds for its online support to keep adults with mental health issues connected during the pandemic and head injury charity Headway which was able to reopen its hub service to provide rehabilitation activities to people with neurological conditions
Family support groups such as the charity Still Good Food for project coordinators for its work which helps people reduce food waste, save families money, and educate people about the difference in meaning between the 'best before' and the 'use by' labels on food and drinks
Community activities including those run by Greener Growth who used funds to put in place a volunteer coordinator for its work with community volunteers improving biodiversity and growing their own food
Advice and advocacy services such as West Suffolk Citizens Advice who used funds to put in place an emergency contact operation during the pandemic.
---