Beat the car park queues for Christmas in Bury St Edmunds
22 Nov 2021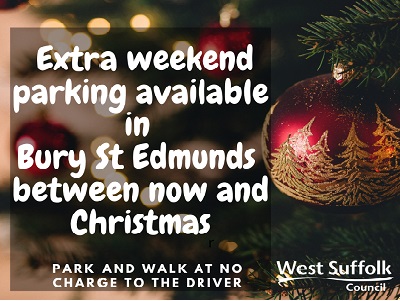 Christmas has officially begun in Bury St Edmunds and festive town centre visitors now have even more choice where to park thanks to support from Greene King which is offering its car park at no cost during weekends.
The warm glow of Christmas lights organised by Our Bury St Edmunds Business Improvement District and switched on last week, provides an attractive welcome to town centre visitors. The lights switch on marks the start of Christmas in Bury St Edmunds and a series of events organised by town centre partners including West Suffolk Council.
A lights and music extravaganza, a full Santa experience, Christmas markets, live music and carols are all among the town centre entertainment designed to bring festive cheer to local communities and boost the tills of shops, restaurants, cafes and other town centre businesses this time of year.
With so many things to enjoy in the town, Greene King and West Suffolk Council are both making additional weekend parking available, so people can Park and Walk to beat the busy town centre car park queues.
The council's Olding Road car park, which is about 10-15 minutes-walk from the town centre and has 300 spaces, will be available to the public to use at no cost to users at weekends.
Greene King is making 200 spaces at its car park off Cullum Road available for parking from 8am to 5pm. The car park is approximately 10-15 minutes' walk from the town centre.
Jo Kreckler, head of external communications at Greene King, said: "We're always keen to support our community in Bury, so we're pleased to be able to offer our car park at no cost to locals coming to town for weekend Christmas shopping."
Mark Walsh, West Suffolk Council's Director for Operations, said: "We are delighted to have the support of Greene King, one of the town's biggest employers, as we approach such an important time of year for many town centre businesses. Both Greene King's car park and our own car park in Olding Road, offer more choice for people visiting the town on the weekends between now and Christmas. Both are being made available at no cost to drivers and offer an alternative option to our busy town centre car parks for people who want to beat the queues and are happy to Park and Walk."
Park and Walk will be offered in both car parks over the four weekends in the run up to Christmas starting from 27 and 28 November.
For more on what's happening in the run up to Christmas in Bury St Edmunds and the surrounding area, visit https://www.visit-burystedmunds.co.uk/christmas-in-bury-st-edmunds-and-beyond
---