Christmas bin-fluencers needed
28 Nov 2022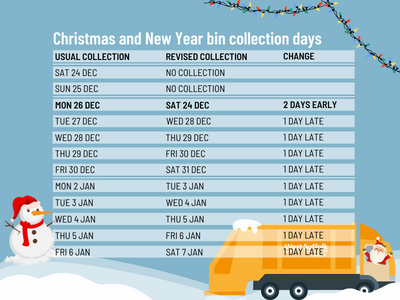 Once again Christmas bin-fluencers are being looked for in West Suffolk, with households being asked to share with friends and neighbours changes to bin emptying times over the festive and New Year period.
Cllr Peter Stevens, Portfolio Holder for Operations at West Suffolk Council said,
"Christmas Day again falls over a weekend this year. Because of this, on one day only we will be collecting bins early, but in general they will be emptied one day late. We had a similar arrangement last year and residents responded very well, with few problems. This was undoubtedly thanks to the way that neighbours looked out for one another, and my thanks go to all who share the information we will be putting out."
Residents can check which bin to put out and when by checking Find my Nearest on the council website. 
The early collection will be for bins due to be emptied on Monday 26 December. Instead they will be collected on Saturday 24 December, that is two days early.
For the rest of the week between Christmas and New Year, collections will be one day later than people's normal bin day. Collections will be one day late again the following week, after New Year. Everything will be back to normal from Monday 9 January.
Residents are also being asked to recycle as much as they can to help reduce waste and to use local recycling centres. 
Councillor Stevens added " We would also like to thank everyone for the amazing support you have given our bin crews through the difficult times we have all faced, including this year's heatwave. The letters and pictures left on bins or stuck up on windows really make a difference. I know they would like to wish all the residents they serve a very Merry Christmas and Happy New Year."
---