Help for eligible households who haven't claimed Council Tax Rebate Grant
22 Jun 2022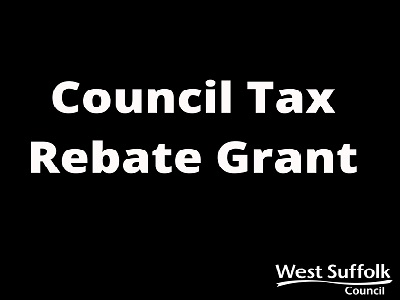 Households who are eligible but haven't claimed the Council Tax Rebate Grant in West Suffolk will be receiving lower bills from today (22).
More than 9,400 households will receive new Council Tax bills from Anglia Revenues Partnership showing the lower amount. Those households who are in credit as a result, will then be able to complete a form to have the money transferred into their bank account.
The Rebate Grant was available to households in Council Tax Band A-D including for those who pay low to no Council Tax as a result of receiving Council Tax support. The Government scheme gave households £150 towards the rising cost of energy bills.
Those households who were eligible and who paid their Council Tax by direct debit had the money paid straight into their bank accounts.
As neither the Council or Anglia Revenues Partnership held bank details for those not on direct debit, it then wrote to all the remaining eligible households inviting them to complete a short form so the money could be paid into a bank account.
In total, more than 52,500 households will have received the money as a direct payment into their bank accounts either as a result of paying their Council Tax by direct debit or by completing an online form.
Cllr Sarah Broughton, Cabinet Member for Resources at West Suffolk Council said: "We have now administered more than £9m of Council Tax Rebate Grant to eligible households through payments – or where no claim was made, applying it to people's Council Tax account. Where a household is in credit, we will work with them to get the money paid into their bank account so that it can be used for its intended purpose of helping people with their energy bills. 
"We also have £270,300 to administer discretionary grants and we will be targeting that at those households that we and our partners have identified as vulnerable and likely to be the most impacted by rising energy prices and the increased cost of living. This will include residents in band E-H properties who for Council Tax purposes are considered to be 'severely mentally impaired' and those who receive a Disability Reduction or Local Council Tax Reduction. There will also be a hardship scheme that people can apply to. 
"We are finalising the details of this scheme and will announce more on how people can apply in the coming weeks."
 
---