Action on antisocial behaviour sees tenant banned from home
25 Nov 2022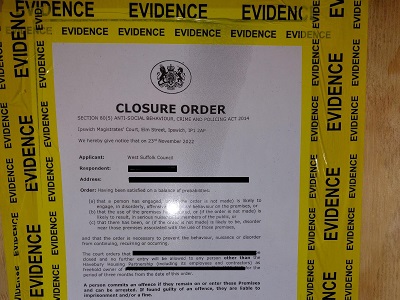 A tenant has been banned from her home for at least three months in a bid to stop antisocial and drug related behaviour blighting the lives of her neighbours.
Following partnership work with Suffolk Police and Havebury Housing Partnership, West Suffolk Council successfully applied to Ipswich Magistrates Court on Wednesday (23) for a three-month Closure Order for the address in Ashwell Road, Bury St Edmunds.
The order was granted under the Anti-Social Behaviour, Crime and Policing Act 2014, after the court heard on persistent disorder and suspected drug related activity taking place at the property.
The court order means that only Havebury Housing Partnership as owners of the property, and its contractors, are permitted access to the property. Anyone else found to be entering, could be jailed for up to six months or receive an unlimited fine for being in breach of the order.
Although the order is initially for three months, the council and partners can apply for an extension for a further three months if it is felt it is required.
Cllr Robert Everitt, Cabinet Member for Families and Communities and one of the ward members for the area, said: "We know that persistent anti-social behaviour can have a really damaging effect on the health and wellbeing of nearby residents, leading to fear, stress, anxiety and other issues. Court action such as this is of course the last resort, but it is never-the-less one that we, alongside our partners are prepared to take on behalf of the other residents in the area that we represent." 
Amy St Ledger, assistant director of customer and housing services at Havebury, said: "This order demonstrates our commitment to dealing robustly with anti-social behaviour that impacts the lives of our residents. We will take action against residents who breach the terms of their tenancy agreement, and work closely with the police and other partners to support our communities so they can live peacefully in their homes."
Inspector Andrew Beeby from Suffolk Police said: "We received a number of reports of drug activity and antisocial behaviour at this address in recent months and by obtaining this order we hope the local community will feel reassured that, through partnership working, we have taken action to prevent it from continuing.
"Everyone has the right to feel safe in their own homes and communities and we would continue to urge anyone who experiences issues through their neighbourhood to report it to police. We have a dedicated page on our website to make that as easy as possible: Suffolk Police - Report anti-social behaviour."
---