Youngsters race towards new skills thanks to careers event at Tattersalls in Newmarket
21 Sep 2023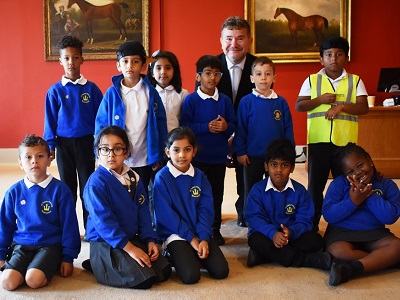 Almost two hundred youngsters from five schools based in and around Newmarket took part in one of the only careers events for younger primary school children in the country.
The 'Skills Escalator Day' saw a variety of industries create short interactive sessions for children aged between six and seven giving them a window into the world of work.
The event took place at Tattersalls on Wednesday 20 September 2023.
This occasion was organised by the Eastern Education Group (that incorporates Abbeygate Sixth Form College, One Sixth Form College, University Studies at West Suffolk College and West Suffolk College)
Organisations who offered sessions included Addenbrooke's, BT, Cambridge University Hospital, Caps Cases, HSBC, the National Horseracing Museum, Newmarket Equine Hospital, the NHS, Suffolk Fire and Rescue Service, Suffolk Police and students and staff from the West Suffolk College performing arts and childcare teams.
West Suffolk Council were also heavily involved in the event, bringing along teams from their economic development, law and waste management departments.
Sessions incorporated everything from dance to banking.
Two actual horses also came along as the children got a chance to find out about careers in veterinary science.
Organiser of the event is Victoria Fiebelkorn. The Skills Escalator Lead for the Eastern Education Group said: "Skills Escalator Days directly link school children with the world of work, to allow them to see and talk to people from the world of work to build in them a lifelong curiosity and passion for the world of work.    
"We run these events across the region as we believe that children need to recognise that any job out there is a job that they can aspire to do. To the best of my knowledge, Skills Escalator Days are the only careers events for such a young cohort in the country…. for now, but we're always looking to expand.   
"As a group we are determined to drive inclusivity in society, working with all ages and sectors and we believe that this is just the beginning for all students who visit a skills escalator event in terms of their career related learning."
Victoria added: "A massive thanks to Tattersalls for this opportunity. It's the first time we have used a venue that is not part of the Eastern Education Group, as well as the first time the Eastern Education Group has bought the Skills Escalator Days to Newmarket, so we are delighted to be in such an iconic venue."
Cllr Indy Wijenayaka, Cabinet Member for Growth, West Suffolk Council said: "Ensuring our young people are equipped with the skills and knowledge they need to progress in their careers is a priority for the council. This is why I am thrilled we supported the Skills Escalator Day in Newmarket. We have been involved in these events since their inception and it is wonderful to see primary school aged pupils engage with such a range of career opportunities in order to inspire a sense of direction and hope for them, as well as enjoyment. I am delighted that Eastern Education Group is leading this as it will provide fantastic continuity for the young people taking part in the event."
John Morrey from Tattersalls said: "Tattersalls was delighted to host the inaugural Skills Escalator Day in Newmarket with the knowledge that previous similar events in East Anglia have been extremely beneficial and popular. We hope all children who attended the day had an enjoyable and informative visit to Tattersalls."
Stephanie Fearon – widening participation officer at Addenbrokes Hospital, said: "We read a story about a teddy bear who has broken his leg and then we the children saw his journey through the hospital and they learnt about all the different job roles in the NHS. It's really important children know about all of the different careers that they can do. It's been fantastic."
One of the attendees was Maxine Rhodes from Caps Cases in Newmarket. Maxine said: "We explained to the children how cardboard can be recycled as we are interested in explaining to children more about recycling. We enjoyed it (being involved)."
Connie Dunne from Conservatoire East – the acting academy based at West Suffolk College said: "We taught dance sessions to primary schools. We love volunteering and we want to help the community."
Teacher Sarah Lister from Holdsworth Valley Primary said: "The children really enjoyed themselves. They will leave today feeling so inspired."
Student Amelia from Holdsworth Valley Primary said: "I loved the fire truck – I want to be a firefighter."
As part of the Eastern Education Groups commitment to UNESCOs Sustainable Development Goals, the young children and staff from all the schools from Newmarket who attend walked to the event promoting the environmental and health benefits of walking where we live. 
 
---