Communities helped to take lead on tackling dog fouling
29 Sep 2017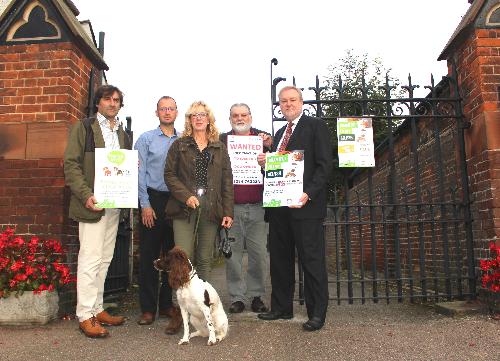 Changes to dog control orders in St Edmundsbury are giving communities new opportunities to tackle anti-social dog fouling behaviour.
One of the main complaints to local councils is about the small minority of dog owners who do not clear up after their pets.
A new initiative by St Edmundsbury Borough Council is being introduced to help keep spaces open to the public, such as sports pitches, playgrounds and parks, free of dog mess which is not only unpleasant but can spread disease or be dangerous for children.
From 1 October 2017 Public Space Protection Orders are being introduced covering all spaces open to the public across the borough. Allowing a dog to foul in an area open to the public without picking it up could result in a Fixed Penalty Notice of £80. If you do not pay the Fixed Penalty Notice then you could be taken to court and fined up to £1000. In addition, dogs are excluded from some public areas, including play areas and fenced sports pitches during the playing season.
Communities are being asked to pass on details of any fouling incidents they may see for council enforcement officers to follow up. Cllr Peter Stevens, St Edmundsbury Cabinet member for Operations explains how this can be done,
"I must state from the start that the vast majority of owners responsibly clean up after their dogs and we want to work with them to challenge the unacceptable behaviour of those who do not. Some know what they are doing is wrong. We believe that letting them know they cannot get away with it may be enough to make them change. You can report to us direct on line www.westsuffolk.gov.uk/dogfouling'.
We have also produced a toolkit that includes a report form and we want as many community organisations as possible to download it from our website and use it to provide information for our enforcement officers to follow up. The information provided is treated as confidential and will never be shared without your permission. Please give us as much detail as possible.
Parish councils and sports organisations are among those who have to deal with the problem at a local level."
Clare Town Council's Environment Committee Chairperson, Loveday Perceval-Maxwell said:
"The Town Council has done a lot of work to educate, provide bins and free bags and our street wardens have to clean up when irresponsible owners don't. Of particular concern are areas in the centre of town where footfall is high and also areas where children play - green areas on housing estates and the playing fields. Dog walkers tend to be about at the same times of day and many now have the confidence to openly carry their filled bags, maybe as a way of distancing themselves from those who haven't. If anyone gets in touch with us to report a problem, we will be asking if they have any details we can pass on to St Edmundsbury enforcement officers to follow up."
David Halsey, Chair of Haverhill Rugby Club said,
"As someone driven to frustration by the unthinking carelessness of people who let their dogs foul our pitches, I would welcome the community getting behind this by providing information for enforcement officers to follow up direct with the dog owners."
Jodie Allard, Mini Soccer and Youth Football Development Officer at Suffolk FA said,
"We are pleased to be working in partnership with the Football Foundation, the Forest Heath District and St Edmundsbury Borough councils to ensure that all adult and youth players have the best experience possible when playing football on grass pitches in the local area.
"We are hopeful that this initiative will have a positive impact on the grassroots game, and help to eradicate issue of dog fouling on grass pitches that members of the football community unfortunately experience.
"It is important that we continue to work closely with all members of the local community to ensure people can play football in a clean and safe environment in Suffolk."
From 1 October the toolkit and full list of areas from which dogs are excluded can be found at www.westsuffolk.gov.uk/dogfouling
---