Councils work together to secure Brandon Country Park's future
14 Feb 2018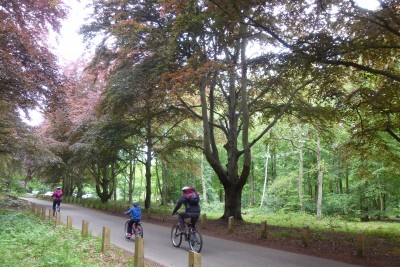 Plans to secure the future of Brandon Country Park have been backed by Forest Heath District Council Cabinet.
The 32 acre country park which sees around 175,000 visitors a year is currently managed by Suffolk County Council with £20,000 funding provided by Forest Heath.
Both authorities have been in talks over the site following the county council's decision to transfer ownership of its parks and nature reserves to other organisations.
Currently Forest Heath manages a range of parks and green spaces including Aspal Close Nature Reserve in Beck Row. The district council sees parks as not only important as supporting the local environment and attracting visitors to the area but as part of its investment in supporting communities keep healthy and active while supporting wellbeing.
With a range of walks and cycleways the park is an important local facility. It also hosts a Parkrun every week and a regular programme of guided walks and events throughout the year.
The district council will pay a £1 for the park but will take over the ownership and running of Brandon which currently costs £50,000 a year. To help the transition Suffolk County Council will pay £25,000 for a year after ownership is transferred.
The country park includes:
the 'Copper Beech Tearooms' which also host a gift shop
public toilet facilities
children's play area
a recently restored Victorian pump house and meeting room pay and display car park
walled garden
lake
lodge
mausoleum
In recent years, the county council has invested in the site and made some significant improvements. These have included investing in the café (including additional space for café seating, a new purpose built kitchen and a new shop area) and achieving the Visit England's 'Quality Assured Visitor Attraction' award.
Councillor Andy Drummond, Portfolio Holder for Leisure & Culture for Forest Heath District Council, said: "I am glad we have been able to work with the county council to secure the future of the country park for our communities. Parks are not just important in protecting our local environment and wildlife but vital in improving health and wellbeing. Brandon Country Park sees thousands of visitors each year and is a beautiful area of Forest Heath."
Forest Heath District Councillor David Bowman, Portfolio Holder for Operations, said: "The councils have worked closely together and I was also pleased to hear the initiative has been backed by local Brandon councillors. It shows we are often best placed to work with local communities and deliver services such as this. Not only is it good that we can secure this country park but we are now working up a ten year plan and looking at the further opportunities it brings to improve the offer at this great park.
---