Hargrave on course to produce West Suffolk's first Neighbourhood Plan
21 Feb 2018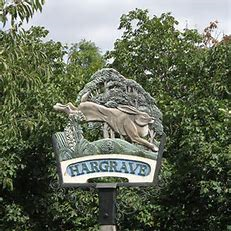 One of West Suffolk's smallest villages is on course to creating the first Neighbourhood Plan in West Suffolk, as residents are consulted on the draft, legally binding document that gives their community a say in future development.
Hargrave, which lies seven miles south west of Bury St Edmunds in deep countryside, comprises 120 dwellings many of which are very old. Hargrave Parish Council has been working with its community and St Edmundsbury Borough Council,( as the local planning authority), to develop a Neighbourhood Plan which will become part of the borough's development plan by which planning applications are determined.
The six week consultation period on the Neighbourhood Plan Submission Version runs from 6 February 2018. It will then be considered by an independent examiner. Once the local planning authority is satisfied that the plan is ready a referendum will be held.
Cllr Alaric Pugh, St Edmundsbury Borough Council Cabinet member for Planning and Growth said,
"I congratulate Hargrave on more than two years' careful work on this plan, which will give their community a say in setting the criteria by which planning applications are determined in their area. This community involvement is at the heart of localism in the planning process and I am delighted that Hargrave, a well-connected village, is actively articulating its wishes for the future."
The plan seeks limited growth within the main built-up area, having regard to environmental constraints.
Other West Suffolk communities currently producing a Neighbourhood Plan include  Barningham, Fornham All Saints, Great Barton, Ixworth & Ixworth Thorpe, and Newmarket.
---