West Suffolk electric vehicle event
15 Aug 2017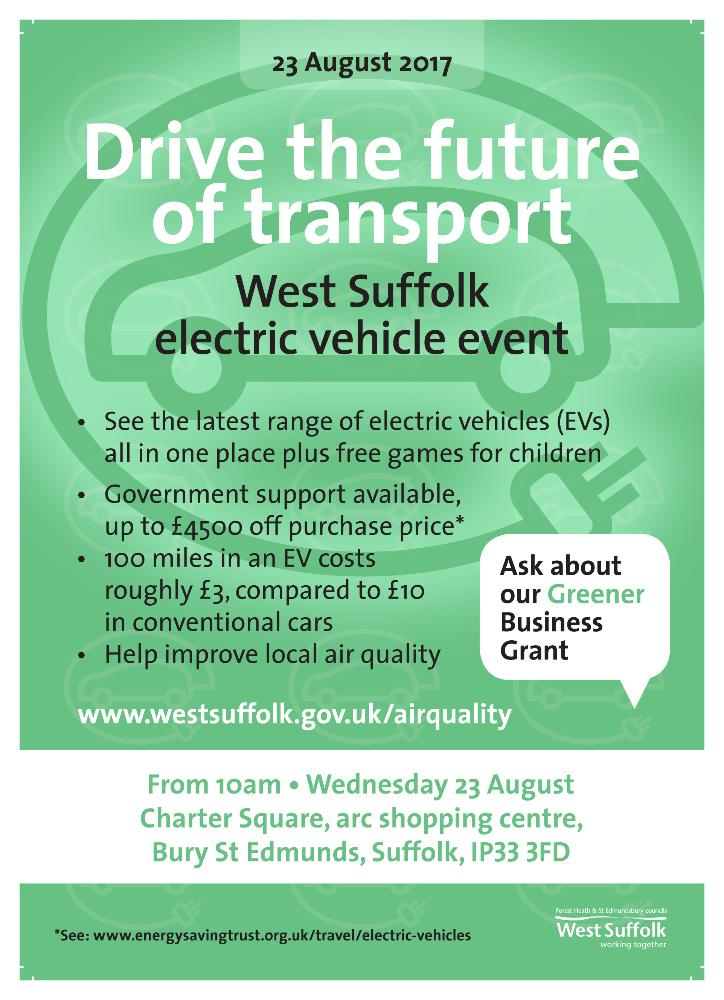 Following on from its success last year, the West Suffolk Electric Vehicle Show will be returning to Bury St Edmunds later this month.
In recent weeks Volvo has announced that it is to stop making petrol and diesel models, instead concentrating on electric models, while the UK Government has also said that it proposes to ban new petrol and diesel vehicles by 2040.
West Suffolk councils meanwhile have unveiled new electric charge points at their car parks in Bury St Edmunds, Haverhill and Newmarket.
Now there is a chance for motorists to find out more about the benefits both financial and environmental, of electric vehicles, when St Edmundsbury Borough Council holds its second annual electric vehicle show on 23 August.
The event, which will run from 10am to close of day on Charter Square, will offer residents and businesses the opportunity to view some of the latest electric vehicles on offer from local dealerships.
Cllr Alaric Pugh, St Edmundsbury's Cabinet member for Planning and Growth said: "Electric vehicles generally cost just 3p per mile to run compared to around 10p for a petrol or diesel car so there is a huge economical saving to be made for West Suffolk residents and businesses, while many models will run well over 100 miles on a single charge.
"The number of electric vehicle charge points is growing all the time – latest figures from Zap-Map (https://www.zap-map.com ) shows there are more than 13,000 charge points at over 4,500 locations across the UK, including ten in our West Suffolk car parks as well as points at local hotels, attractions and services. We are also using our influence to ensure that new commercial and residential developments have charge points installed, building a strong and resilient community.
"On top of all this electric vehicles produce zero emissions, and are key part of The Department for Environment, Food and Rural Affairs' recent plans to improve local air quality. Figures from Public Heath England suggest that poor air quality is a contributory factor in one in 20 deaths of people aged 30 and over, even in more rural areas such as West Suffolk."
There is an additional incentive to businesses looking to switch to electric vehicles. West Suffolk councils Greener Business Grant and the BEE Anglia energy efficiency grant can both be used amongst other things, to pay towards the costs of an electric vehicle or the cost of installing a company vehicle electric charge point. The Council will match fund businesses up to £1,000 towards the costs whilst BEE Anglia offer grants up to £20,000 (28% of project costs).
For more details about the Greener Business Grant and the BEE Anglia grant visit http://www.greensuffolk.org/at-work/funding/ or http://www.beeanglia.org/
---