First phase of Local Plan consultation ends today - #YourFuture #YourSay
22 Dec 2020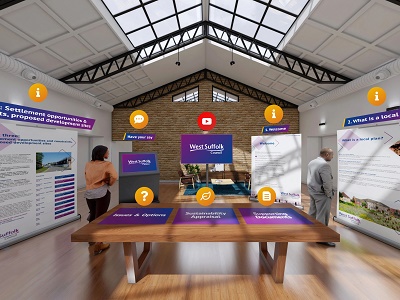 Residents are being urged not to miss their chance to have their say on the new Local Plan which will help shape the future of West Suffolk up to 2040.
The 10 week engagement on the Issues and Option part of the Local Plan closes today, 22 December at 5pm. This sets the foundations of the formation of the final plan which helps shape the future of communities and supporting development for the next 20 years.
Local people and organisations are at the heart of forming the new Local Plan and already there has been 3,000 visits to an open all hours virtual exhibition where people can also have their say.
Due to COVID-19 and national guidance the council has had to use new and innovative ways to help people understand the issues and have their say over the engagement period.
As part of this, a virtual exhibition in an online village hall, which never shuts has been set up and this includes a film as well as information boards and documents.
The exhibition can be found at https://westsuffolk.exhibition.app/ and already people have been having their say.
The exhibition has been visited more than 3,000 times – this far more than would have usually visited using face-to-face exhibitions.  
The on-line chat function has been also a very helpful additional feature for those within the exhibition to chat with a planning officer if they have any queries or would like some assistance on a particular issue.   
In addition there are a range of methods being used to help people learn more and have their say including planning officers being available to talk online via live chat in the virtual exhibition space on Mondays, Wednesdays and Fridays 10am to 12noon and 4pm to 6pm, or over the phone on 01284 757368.
The Local Plan featured in the Council's online Parish Forum. Town and Parish Councils were also invited to a specific workshop and over 40 parish/town councils attended the workshops. Workshops were also held for statutory consultees such as water companies and the Highways Agency, businesses, and local community groups. 
 
In addition, the Council has been attending town and parish council meetings on request. These have been well attended with between 30 to 50 residents attending the meetings.  These have been entirely online during this year's consultation. 
The Local Plan helps local communities continue to thrive in the future by setting out where homes will be built and supports, with other council policies where new jobs and other vital facilities are located. All West Suffolk planning decisions are judged against Local Plan policies.
The Local Plan ensures the right number and types of homes are built in the right places and through its policies supports the provision of space for employment, green spaces, education, culture, health and sports facilities.
It also looks at how infrastructure supports this growth and challenges faced in the area, such as climate change.
A local plan is also vital to prevent speculative development that could harm local communities, the countryside, and the environment. It ensures growth is well planned and supports future ambitions for the future.
The process involves three consultation stages with the first being the Issues and Options which started on 13 October and ends on 22 December.
This initial stage which will help shape the plan and the future of West Suffolk as it develops. The Issues and Options consultation also has three parts:
•  Part One includes a spatial vision, a new draft settlement hierarchy and options for the distribution growth
•  Part Two sets out issues in West Suffolk that are particularly relevant to our area, and
•  Part Three contains sections for the towns, key service centres, local service centres and villages identified in the new draft settlement hierarchy in part one of the plan. It also includes a new call for sites.
At this first information gathering stage, the council will be consulting and seeking comments on a variety of issues and options. This includes questions such as have we identified the challenges correctly, and relevant local issues, as well whether we have covered all the options for delivering growth.
Councillor John Griffiths, Leader of West Suffolk Council, said: "I would like to thank the thousands of people who have already visited our online exhibition and encourage others to follow suit and have their say by 22 December. A good Local Plan is central to the best possible future for and development of West Suffolk and our communities. It is much more than just about where housing and associated facilities may go but will set out how best to support our future prosperity and future generations in our area as well as tackling issues such as climate change. In short it should help ensure that we get the right kind of development and necessary infrastructure in the right places while protecting our environment. The Local Plan will shape planning and development in West Suffolk up to 2040 which is why it is vital that as many people as possible do have their say. It is #YourFuture #YourSay."
Councillor David Roach, Cabinet Member for Local Plan for West Suffolk Council, said: "We want everyone to have their say on the Issues and Options phase which will form the foundation of the Local Plan and ultimately guide future development in West Suffolk. Time is running out for you to have your say on this initial phase. To assist people having their say and learn more we are using a range of methods from online exhibitions to webinars and posters, as well as our team being able to chat online with people. During this time of COVID-19 with guidance restricting face-to-face meetings, we are having to engage in different ways including a virtual village hall exhibition that never shuts. This is the first time we have used an online exhibition like this to help people, even during stricter COVID-19 regulations to look at the information and have their say. The local knowledge of our residents is vital in forming these plans. We have also engaged with local parishes on a one to one basis which has been well received and will continue to do so through the process. Help us shape the future of West Suffolk and have your say before 22 December 2020."
 
---