Rapid rise in COVID-19 cases and pressure on health and care force Suffolk into Tier 4 restrictions
23 Dec 2020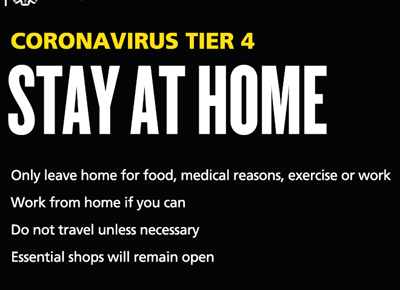 Suffolk placed in Tier 4 as county sees 96 percent rise in a week.
Suffolk leaders: 'Let's re-double our efforts to bring infection rates down'.
An alarming rise in COVID-19 infection rates across Suffolk and pressure on hospitals, care homes and social care will result in the county entering Tier 4. 
The decision by central Government to place Suffolk in the highest alert tier from its previous Tier 2 status comes into effect from Boxing Day.  
The pace of growth in the infection rate is also a major cause for concern across Suffolk, with a 96 percent increase in cases in a week. Suffolk's current rate is 188 per 100,000 people. Two weeks ago this was 67 per 100,000. In the past week, Mid Suffolk cases have increased by 192 percent, West Suffolk 176 percent and Babergh cases by 166 percent. 
This growth puts pressure on Suffolk's hospitals which need to protect Suffolk's vulnerable residents whilst still treating non-COVID patients. There were 239 COVID patients in Suffolk hospital beds on 23 December 2020.
Councillor Matthew Hicks, the leader of Suffolk County Council and chair of Suffolk's Local Outbreak Engagement Board, said: "While it is not the news any of us wanted to hear, it comes as no surprise that Suffolk finds itself in Tier 4 given the rates of infection in recent days.
"The figures speak for themselves. This rise in cases, exacerbated by a more infectious variant, means increased pressure on the National Health Service and its partners, who are in the front line in the fight against COVID-19.
"We now must use this move into Tier 4 status as a spring-board from which to re-double our efforts in working together to bring rates down. This is our opportunity to halt the spread of the virus and enable us to move back into Tier 2." 
Cllr Hicks said the potentially more infectious new variant of COVID-19 meant it was even more important people followed the advice on maintaining social distancing, along with regular washing of hands and wearing of face masks. 
Chris Bally, Deputy Chair of the Suffolk Resilience Forum and Deputy Chief Executive of Suffolk County Council, said: "I would urge everyone to take these new restrictions very seriously. 
"Whilst we are all disappointed in this announcement, we have shown tremendous fortitude and collective strength throughout this pandemic to do what is right, and follow the guidance so we can protect the most vulnerable and ultimately move beyond this. 
"We know that, with a vaccine already being rolled out across the country and with other vaccines on the way, there is light at the end of the tunnel, but, in the meantime, we must follow the Tier 4 restrictions to ensure we move to the lower tiers in the shortest time possible."
Under Tier 4, people cannot leave their homes unless there is a reasonable excuse. People cannot meet others indoors unless part of the same household or support bubble. Outdoors, you can only meet one person from another household.
Those who are deemed clinically extremely vulnerable should not go to work and should limit time outside of their homes.
Tier 4 residents must not stay overnight away from home and cannot travel abroad.
 
---