West Suffolk Council holds its first Annual Meeting
23 May 2019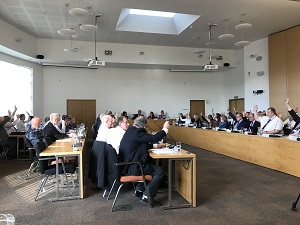 West Suffolk Council has elected its first ever Chair and Leader as well as naming its Cabinet at the authority's inaugural Annual Meeting.
The new West Suffolk Council has been created to better drive prosperity, the economy and jobs for the area while delivering services and championing local communities.
The first meeting of the council was held on Wednesday 22 May.
Councillor Brian Harvey was elected Chair and Councillor Margaret Marks Deputy Chair.
Councillor John Griffiths was elected Leader of the authority and he said: "I want to pay tribute to the councillors who have gone before us and the excellent legacy they have left which puts us in such a strong position. We will build on that legacy and deliver those initiatives while evolving our own path and future aspirations. Everyone who stood for election did so because they wanted to do the best for their communities and that ethos is at the heart of West Suffolk Council. I look forward to working with my new cabinet and all councillors to help encourage investment in our area, manage growth and champion our communities."
He named his cabinet members as:
Deputy Leader and Portfolio Holder for Housing: Sara Mildmay-White
Portfolio Holder for Leisure and Culture: Jo Rayner
Portfolio Holder for Families and Communities: Robert Everitt
Portfolio Holder for Operations: Peter Stevens
Portfolio Holder for Planning and Regulation: Andy Drummond
Portfolio Holder for Growth: Susan Glossop
Portfolio Holder for Resources and Performance: Sarah Broughton
Portfolio Holder for Governance: Carol Bull
Other positions agreed:
Chair of Overview and Scrutiny: David Nettleton
Vice-Chair of Overview and Scrutiny: Simon Cole
Chair of Performance and Audit Scrutiny: Ian Houlder
Vice-Chair of Performance and Audit Scrutiny: Karen Richardson
The council is made up of 64 councillors divided into four groups. The groups are:
West Suffolk Conservatives: 36
Spectrum: 12
Independent: 11
Labour: 5
The council held a one minute's silence following the announcement of the death of former St Edmundsbury Borough Council Leader Ray Nowak.
---