1. Cornhill, Buttermarket and arc – the heart of the town centre
Overview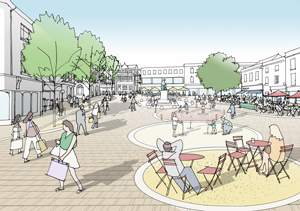 Historic Cornhill and Buttermarket are the commercial heart of Bury St Edmunds. Together with the award winning market and the arc shopping centre, this part of the town centre attracts visitors all year round. In order to capitalise on this success, and ensure it continues into the future, additional investment is required. This will help to enhance the historic environment, introduce additional retail and other uses in the area, and make it easier, safer and more comfortable for people to find their way around.
Project leads
Borough council, county council, working with the arc, The Apex, Our Bury St Edmunds, Chamber of Commerce, market traders, local interest groups, local landowners.
Priorities
Movement
Give greater priority to pedestrians by reducing/ removing traffic and parking in Cornhill and Buttermarket during the day. In addition, improve the connections between Cornhill and the arc by making the environment of Market Thoroughfare more attractive and removing through traffic from St Andrews Street South next to the arc up to the corner of Risbygate Street. Improve the top of Cornhill to create better pedestrian links with St Johns Street.
Activity
Ensure the market retains its place as the key activity in Cornhill and Buttermarket. Allow for the expansion of the arc to meet the need for new retail uses in the town centre. Consider further redevelopment opportunities, particularly between the arc and Cornhill, to better integrate and connect the two locations.
Place
Unify the paving and appearance of the whole area to enhance the character and appearance linking the arc to the historic location in the town centre. Remove barriers to access by creating a clear, safe and direct pedestrian route from the arc, across St Andrews Street South, through to Cornhill to Buttermarket.
Aspirations
Extend pedestrianisation or part pedestrianisation of Cornhill and Buttermarket
Environmental enhancement of Skinner Street – screen refuse areas and renovate paving
St Andrews Street South next to the arc up to the corner of Risbygate Street - close to through traffic, reroute buses, retain service access.
Market Thoroughfare - improve lighting and surface materials
Consider redevelopment opportunities between St Andrews Street South and Cornhill to provide for a mix of uses and establishing closer integration between the arc and Cornhill
Extend the arc to capitalise on its success and accommodate additional retail
Cornhill improve connectivity with St Johns Street
Retained delivery access and accommodate Blue Badge and other parking nearby
Support the continued success of the market
Unify the area with carefully designed paving
Meeting MAP Objectives
Aspirations at Cornhill, Buttermarket and the arc will contribute to meeting MAP objectives 1, 2, 4, 5, 6, 7, and 8.