2. The Northern Gateway
Overview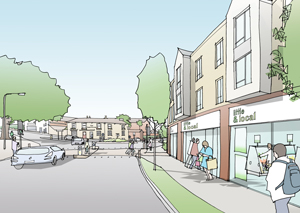 The Northern Gateway Character Area of Innovation focuses on the part of the town centre between the railway station around Tayfen Road, and primarily the corridors along St Andrews Street and St Johns Street. The Gateway has a mixed character with edge-of-centre uses along Tayfen Road, car showrooms and so on, contrasting with the residential character closer to the heart of the town centre. Key opportunities focus on better connecting the railway station with the rest of the town centre, linking into proposals for St Andrews Quarter and the area around Station Hill.
Project Leads
Borough council, county council, working with Network Rail, local stakeholders and landowners.
Priorities
Movement
Enhance and encourage pedestrians and cyclists to move between the main town centre and the railway station, with a focus on St Andrews Street and St Johns Street, whilst maintaining access for cars. Provide a more attractive pedestrian environment along Tayfen Road to improve the gateway to the town centre.
Activity
Introduce new uses that will better front onto streets and spaces and create a more active, attractive and safer environment.
Place
Through enhancements improve the image and character of this part of the town centre, making it a more attractive and welcoming gateway for Bury St Edmunds.
Aspirations
Introduce new pedestrian crossings over Tayfen Road at the junctions of St Andrews Street and Ipswich Street/St Johns Street. A raised crossing approach similar to the crossing at Angel Hill should be considered.
Introduce new paving and tree planting to make it a more attractive environment and a more welcoming approach into the town centre.
Improve signage to make it easy and straightforward for people to find their way between the railway station and the town centre.
St Johns Street/Ipswich Street improve signage, encourage footfall, improve links to Cornhill, and route to the railway station.
Improve cycle access from the railway station into town.
Ensure all development opportunities coming forward along Tayfen Road and St Andrews Street North provide clear shop/business frontages overlooking the street establishing a safer and more attractive environment.
Outside the MAP area, Compiegne Way gateway and Station Hill are key locations. It is critical to ensure these are integrated into the wider town centre.
Meeting MAP Objectives
Aspirations at The Northern Gateway will contribute to meeting MAP objectives 1, 2, 3, 4, 5, 6, and 7.