New home proposed for Newmarket Market
08 Aug 2017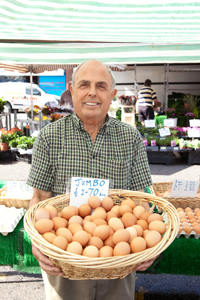 Plans have been unveiled for the move of Newmarket Market on to the High Street from its current location behind the Guineas.
Cllr David Bowman, Forest Heath Cabinet member for Operations said
"For the past three years we have been working with traders, their industry association and retail partners to reverse the continuing decline in Newmarket Market. After exploring all options, we have confirmed that the preferred way forward is to move onto the High Street. It is a very different environment from the current car park location and will require a new format and new operating practices, and we have just started discussions with traders to understand the impact of the proposed new terms and conditions. We propose to run a six month pilot before reviewing the change with all our partners."
The aim is to transfer the market to the new location by early April 2018. Fuller details of the plans will be made available on the High Street and on the market later in the year.
The proposed new location is between the Clock Tower and The Rutland Arms. The format will be 3m square gazebos provided by the council and held by the traders, facing towards the shops and printed with 'Newmarket Market' branding.  There will be space for 15 stalls – currently there are about seven stallholders on a Tuesday and 10 on Saturdays, although their pitches spread out more.
Cllr Lance Stanbury, Forest Heath Cabinet member for Planning and Growth said,
"Along with our Newmarket Vision partners, we believe that a thriving market benefits the town. This move has been developed with the traders and has the support of High Street partners. It will also help ease the pressure on car parking capacity by freeing up 40 spaces."
Newmarket Market is one of the country's oldest, with its first charter dating back to the early 13th Century. It is held on Tuesdays and Saturdays every week of the year.
---