Tackling climate change

Tackling climate change while protecting and improving our environment is a priority for West Suffolk Council.
West Suffolk Council declared a climate change emergency and one of the first acts of the new Cabinet was to set up a taskforce to strengthen and move further forward the ground-breaking work the authority is already doing. The work of that taskforce has produced a road map of around 50 initiatives, agreed by the Cabinet, to build on the already successful work we have been leading on to tackle climate change and reduce greenhouse gases. For the full findings of the taskforce download West Suffolk Environmental Statement 2021-22
This included an ambition of reaching net zero greenhouse gas (carbon) emissions by 2030 in recognition of the importance of tackling the emergency more urgently.
The move to a 2030 target is a major change from the previous aim the council had previously committed to which was a 75% reduction by 2050 and shows the ambitions of the authority. Also included were measures to bring in a carbon budgeting approach to support the net zero ambition.
The Cabinet also agreed to add an environmental emergency to the already existing climate change emergency.
Our track record
We have a good track record of reducing our impact on climate change and have been monitoring this since 2010.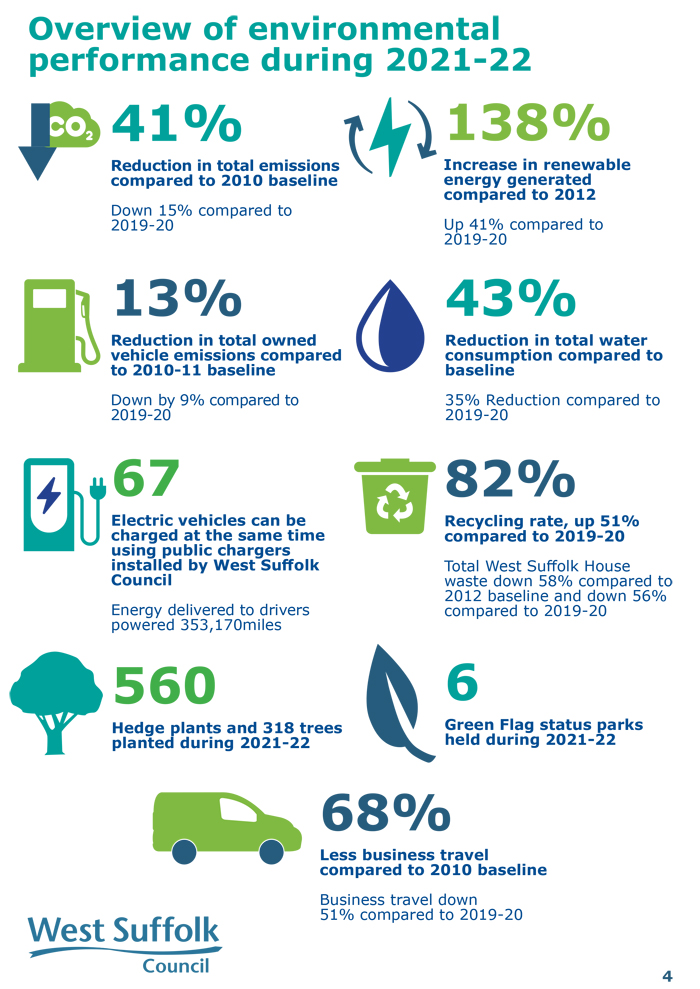 Message from Councillor John Griffiths, Leader of West Suffolk Council
"One of the first initiatives I set up when West Suffolk Council was formed was to set up a taskforce to look into what more we can do with regard to climate change. We already have a strong track record on reducing our impact on the climate which has seen real and positive results and made us a national leader in areas such as energy from solar; and even during COVID-19 lockdown we carried on with initiatives such as planting another 1,000 trees. But more can always be done, and this green roadmap will build further on our work in West Suffolk with a number of measures and initiatives to further tackle climate change and protect our environment. Specifically, it will help us in our aim of reaching net zero greenhouse gas (carbon) emissions by 2030 and underline the importance of tackling the emergency more urgently."