Domestic energy efficiency funding
The council is supporting the residents and communities of West Suffolk to improve their home energy efficiency and the government has launched a series of funding initiatives to support home insulation and renewable energy installations. Further resources on domestic energy efficiency can be found at: Simple Energy Advice - Green Homes Grant
Sustainable warmth funding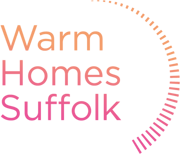 Residents in Suffolk can benefit from free energy efficiency measures including loft, cavity wall and external wall insulation, solar panel systems and air source heat pumps. Eligible households include those with a total annual household income of £31,000 or below and live in a property with an EPC (Energy Performance Certificate) rating of D, E, F or G. You can find your EPC rating at: GOV.UK - Find an energy certificate
More information can be found in the following press release: Financial support to help make West Suffolk homes warmer.
Please refer to the Department for Business, Energy and Industrial Strategy (BEIS) Privacy Notice for information on how your personal data will be used.
To register your interest please contact: environment@westsuffolk.gov.uk
Boiler Upgrade Scheme
The Boiler Upgrade Scheme launched in spring 2022, providing upfront capital grants to support the installation of heat pumps, and in some cases biomass boilers, in homes.
Acting on behalf of property owners, installers can apply for:
£5,000 off the cost and installation of an air source heat pump
£5,000 off the cost and installation of a biomass boiler
£6,000 off the cost of a ground source heat pump, including water source heat pumps.
Find out more here: Ofgem - Boiler Upgrade Scheme (BUS)
Great British Insulation Scheme
The Great British Insulation Scheme is a new government scheme that will help people save money on energy bills by insulating their homes. This £1 billion scheme will help approximately 300,000 households across the country and save consumers around £300 to £400 a year on their bills.
To be eligible, you must have:
EPC rating of D or below
low Council Tax band (A to D in England).
The scheme works by obligating energy companies to help customers reduce their energy bills. This could be through installing energy efficiency measures such as loft insulation or providing efficient heating systems such as heat pumps. The cost of these may vary; therefore, costs may be covered in full or you may be asked to make a contribution.
The scheme will be running until March 2026. To apply for this scheme visit: GOV.UK - Apply for support from the Great British Insulation Scheme
Solar Together Suffolk
Register for a group buying scheme to get solar panels for your home at a competitive price and gain the benefits of having solar panels.
Find out more: Solar Together Suffolk
Help Suffolk move towards net-zero emissions
Solar Together Suffolk is an innovative scheme offering high-quality solar photovoltaic (PV) panels and battery storage. It is a group-buying scheme, which brings Suffolk households together to get high-quality solar panels at a competitive price, helping you through the process and keeping you informed at every stage. It is free to register and there is no obligation to purchase.
During 2021 there were 405 solar PV installations across Suffolk. At point of installation, these were 44 per cent cheaper than the market price for an equivalent system. Over the next 25 years, these are expected to prevent 9,800 tonnes of carbon being released into the atmosphere.
If you already have solar panels installed you can also register to have battery storage added to your existing solar panels to maximise the benefits of your system.
Solar Together Suffolk in 2023
The Solar Together Suffolk scheme will run again in 2023. This page will be updated when details are confirmed - we will likely be accepting registrations in September.
Register with Solar Together Suffolk and you will be sent an invitation as soon as registration opens.
Smart Export Guarantee
An initiative to support small scale renewable energy generators where you can be paid for any excess electricity you generate and export to the grid. You can claim the tariff if you have any of the following technologies installed with a capacity of up to 5megawatt (mW), or up to 50kilowatt (kW) for Micro-combined heat and power (CHP):
solar photovoltaic
wind
micro combined heat and power
hydro
anaerobic digestion
The energy suppliers that offer smart export payments are only required to offer you a tariff that is greater than zero therefore the rate each energy company pays is likely to vary. You should compare the tariffs available before agreeing a contract. Furthermore, the tariffs may be fixed or variable similar to your existing electricity tariff, but they are managed separately.
For more information visit: Ofgem - Smart Export Guarantee (SEG)
Energy Company Obligation
The Energy Company Obligation (ECO) requires large energy companies to help improve the energy efficiency of domestic homes by discounting the cost of improvement works. This applies to certain households who are struggling to pay their energy bills and are defined as being in fuel poverty. The Government has now given local authorities the ability to identify vulnerable households in their areas which could benefit from these improvements. The new scheme is called ECO Flexible Eligibility.
Suffolk's councils have jointly published criteria, in a statement of intent, enabling them to identify households that would benefit from such improvements under ECO flex. Improvements are often fully funded where the household meets particular criteria and is at risk of fuel poverty.
Suffolk's councils welcome enquiries from energy companies and installers who would like to work with us under the ECO4 scheme. For more information and contact details visit Green Suffolk - ECO Flexible Eligibility Scheme
Suffolk Greener Homes interest free loan
Loans of up to £5,000 at 0% APR to help homes cut their energy use. Loans are available for energy saving measures and are only available for the installation of approved materials and technologies by accredited installers:
solar photovoltaic panels and Solar thermal
air and ground source heat pumps
domestic wind turbine
biomass boiler
loft and floor insulation, cavity wall fill, internal and external solid wall insulation
draught-proofing, double and triple glazing and LED lighting
electric vehicles and charging points
water conservation measures (for example rainwater harvesting)
For more information on loans, visit: Green Suffolk - loans for energy efficiency
Launching in autumn: Community Energy Fund
The Community Energy Fund is a new fund that will help support local communities to develop energy projects that can benefit their local areas. This £10 million fund will help enable communities kickstart energy projects, including rooftop solar partnerships, electric vehicle charging points, small-scale wind farms and more.
The fund will be delivered over two years through the Local Net Zero Hubs. It will directly help communities to support local growth and enable places to directly benefit from clean, locally owned energy.
The projects will deliver businesses and families with affordable, secure and clean home-grown energy, while helping homes manage their own energy consumption to bring down costs and reduce fuel poverty - even if you live in a remote village or city neighbourhood.
The fund is scheduled to launch in early autumn - this webpage will update once the fund is active. Once it has launched, communities can start their applications to get a portion of the £10 million Community Energy Fund. You can find more information in the Community Energy Fund press release GOV.UK- Communities at the heart of new fund to boost local growth and energy security
Planning permission
Some settings may require planning permission is granted before solar panels can be installed. More information on planning and building regulations in conservation areas or on listed buildings can be found in West Suffolk Council's Solar photovoltaics (PV) and planning and building regulations in conservation areas or on listed buildings guidance document.