First phase nears completion as Cornhill redevelopment progresses
29 Jun 2021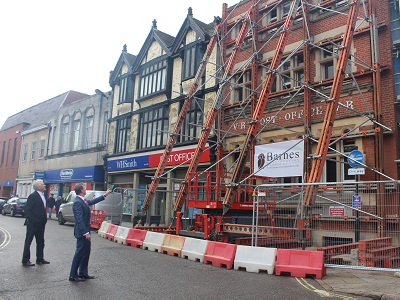 Construction on a major redevelopment, delivering on public aspirations for the future of Bury St Edmunds town centre, has seen one of the aims already achieved.
West Suffolk Council acquired the former Post Office site at 17-18 Cornhill after the Post Office relocated its business. In line with the 8000 public comments that shaped the town centre masterplan, it has been working to create a new commercial frontage to St Andrews Street South, a wider walkway in Market Thoroughfare and to keep and protect the Victorian Cornhill frontage while improving access.
Barnes Construction, working with its structural engineers Superstructures had the tricky task of keeping the frontage, which is in a conservation area, in place while demolishing the building behind, most of which had been added on at a much later date.
For the past nine months, a façade retention system made up of clamp steel beams fixed onto triangular trusses and a mass of concrete blocks previously described as being, "a bit like Lego bricks," has kept the historic Cornhill front in place.
Behind it a steel frame for the new building has been constructed, and is being cleverly connected to the front via ties and concrete anchors, to allow the façade retention system, weather permitting, to be removed next week.
While visitors will be able to admire the frontage, it won't be for long. New scaffolding is going up to allow restoration work to take place alongside the installation of new windows to aid the energy efficiency of the building which will include solar panels for electricity and be heated by an Air Source Heat Pump (ASHP) using the reversal of a process used to keep food and drink cool in a fridge.
Once completed next year, the build will include two ground floor commercial units with 12 flats above.
Cllr John Griffiths, Leader of West Suffolk Council, said: "While we are looking to deliver dramatic improvements to both St Andrews Street South and Market Thoroughfare, we have been clear from the start, that the Victorian front is an important part of our town's history and heritage and should be kept, protected and access improved for all to be able to enjoy. This phase of the development has undoubtedly been challenging and involved some complex structural engineering to achieve these ambitions. We are delighted to see this phase of the redevelopment nearing completion and I would like to particularly thank neighbouring residents and businesses including the market traders, for their continuing patience while this work takes place."
Cllr Susan Glossop, Cabinet Member for Growth at West Suffolk Council, said: "Once this redevelopment is complete, it will help connect and integrate the arc and the historic town centre. I am thrilled to see the progress of this project which was shaped not just by the Council, but through public engagement and work with representatives of town centre trade and other key stakeholders. Our investment represents our continuing confidence in the future of the high street as a place people will continue to value whether to shop, to eat or drink, to live or to work, to relax, socialise or enjoy other leisure and cultural events and activities including those we hold in The Apex, Moyse's Hall Museum and as part of our markets, and in the Abbey Gardens."
For more background on the development, visit www.westsuffolk.gov.uk/cornhill
---