Grass cutting
We work hard to make sure that our grassed areas are maintained to appropriate standards throughout the district. These include our parks and green spaces, playing fields and recreation grounds, cemeteries, playgrounds (amenity areas) and grass verges maintained on behalf of Suffolk County Council. We also maintain seasonal floral displays including hanging baskets and bedding schemes in Bury St Edmunds, Newmarket and Haverhill and trees, hedges, shrub and flower beds district wide.
Grass cutting is affected by various factors such as weather and capacity, but if areas are not cut when planned the teams will be back as soon as possible to complete the work.
Some grass areas are managed in different ways and may be left longer before cutting to support the local environment and encourage plants, animals and insects. This may mean some areas are not cut as much, and is part of the council's wider work to tackle climate change.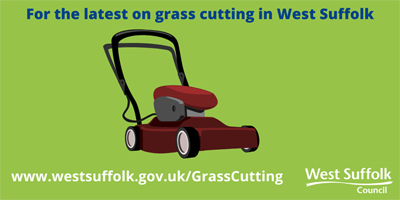 We have divided the district into three areas and we aim to cut approximately one third of the amenity grass in each area, each week. When on site the team always reviews whether the grass needs to be cut or what action needs to be taken.
We are sharing the grass cutting information weekly during the 2023 mowing season:
West Suffolk Council scheduled grass cutting for the week, Monday 5 June to Friday 9 June 2023
Past weeks:
West Suffolk Council is not responsible for the cutting or maintenance of all public land and some is the responsibility of organisations such as Suffolk County Council or housing associations. Others may be the responsibility of organisations such as parish or town councils. Here are contacts and information for those organisations.
Suffolk County Council land
Housing Association land including grounds maintenance, grass cutting.
Please contact the relevant housing association directly – some useful links below:
Parish and town councils (click on the council name to see the Parish Clerk details)
Grass cutting rounds are also designed to take into account factors where specialist equipment is needed or shared on other jobs in that area.
To report a problem or issue with our grounds maintenance you can complete our online grounds maintenance enquiry form or contact Customer Services 01284 757320.