Historic moment as new West Suffolk Council goes to parliament
28 Feb 2018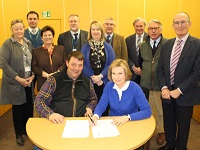 An order to create a new council to drive prosperity and jobs in West Suffolk will go before MPs after an historic unanimous decision made by Council Cabinet members.
Last night, Tuesday, members of both Forest Heath District and St Edmundsbury Borough Council cabinets met to agree the order following backing from both full councils last week.
The new authority, which also has strong support from local residents, businesses and public services, would replace both current councils.
A programme of engagement saw 70% of residents back the initiative in an independent poll and public feedback helped shape the final business case.
Both councils put the proposals forward which were also supported by The Rt Hon Sajid Javid, MP, Secretary of State for the Ministry of Housing, Communities and Local Government earlier this month.
The new council would better drive jobs, deliver services and continue investment to support local communities than the current arrangement. In addition it would generate around £800,000 in savings and efficiencies and help protect the additional £4 million of annual savings already produced by sharing services.
At the same time a new council would also better support, invest in and meet the challenges facing communities, such as increased population, demand on health care and housing as well as reduced funding nationally.
Both councils have also been making a strong case to the Local Government Boundary Commission for England to make sure strong representation of local communities is maintained.
Forest Heath District Leader, Councillor James Waters, said: "This decision is a historic moment for our authorities as we create a new West Suffolk Council. I was pleased to see the amount of support there has been for this new council from councillors as well as partners and our communities. The speed at which this has moved from May last year to going to parliament following gaining the support of the Secretary of State has is a clear indication of the strength of our case. We are now leading the way in transforming local Government, ahead of some councils that started before us. It is also a strong recognition of the part we play now and in the future in helping drive the economy. Doing what is right for our communities is at the heart of what we do. Staying still is not an option if we are to meet future challenges and better champion our communities, both locally and nationally, as well as continuing to deliver high quality services. This means we are not only in a better position to have a louder voice but a real opportunity to find even more effective ways to work more closely and support our local organisations and residents. I look forward to hearing the debate in parliament and helping create this new single council."
St Edmundsbury Borough Council Leader, Councillor John Griffiths, said: "This is a new chapter in our work to find better ways of supporting our communities and driving jobs and prosperity. There has been overwhelming support for these proposals which puts us in a better position to meet the aspirations of our communities. We have listened to local residents and organisations who agree lines on a map or council structures should not get in the way of providing services or hamper us from seizing opportunities for continued investment in our communities. The case for creating a new single council was compelling and once again puts us at the forefront of transforming how local government works to benefit directly the people we serve. Not only can we continue to deliver high quality services but we can better champion our area, drive the local economy, jobs and prosperity in West Suffolk while tackling the challenges facing all public services. We now ask MPs to listen to local opinion and agree the order."
It is hoped that the orders will be laid in Parliament in March this year and elections for the new council held in May 2019.
---