Date set for major town centre project
04 Aug 2020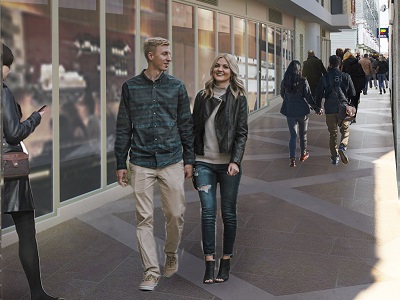 Construction on a major West Suffolk Council project, designed to shape the future of Bury St Edmunds' town centre could start in early September.
Barnes Construction will begin work on the redevelopment of 17-18 Cornhill on 7 September subject to final checks with utility works. The construction is scheduled to be completed in early 2022.
The redevelopment of 17-18 Cornhill follows the council's purchase of the empty site after the Post Office took the commercial decision to relocate its business back in 2016.
The council has already agreed to invest £8.4m which includes the £1.6m purchase. The project is designed to break even while delivering major improvements to the town centre. Leader of West Suffolk Council, Councillor John Griffiths has also secured an additional £160,000 through Suffolk Public Sector Leaders from the business rates retention pool.
Councillor Griffiths, said: "By investing in its long-term future, we are demonstrating to all our ambition and confidence that the town centre will bounce back and  be a place not just of economic, but also of social and cultural activity.
"We are creating a better, wider walkway encouraging footfall between the arc and the historic town centre. We are creating a new commercial frontage onto St Andrews St South, so that the street becomes more of an attraction in its own right. And we will be improving access while also keeping the historic Cornhill front. Through the new homes and commercial units we will also be creating a small level of income which will help toward the day to day services we provide."
The council's plans will deliver some of the key aims of the Bury St Edmunds Town Centre Masterplan, shaped by over 8000 public comments and adopted in 2017.
This week, the council, following work with the New Anglia Local Enterprise Partnership, has secured £2.75m of Government investment from the Ministry for Housing, Communities and Local Government into the project. The money gives more cost certainty given the challenges to construction following COVID-19 and other external influences.
Councillor Griffiths said: "We all know that construction projects nationally have been impacted by COVID-19 which has delayed and slowed builds. I very much welcome the Government's recognition of this important project which will help the long-term future of the town centre."
 
Councillor Susan Glossop, Cabinet Member for Growth said: "I am delighted that following the recent delay, we are now able to progress this scheme, one which has been shaped through public comments on the town centre masterplan and a very successful exhibition of ideas and the input through our work with town centre partners for which I am very grateful."
Chris Starkie, Chief Executive of New Anglia LEP, said: "We're pleased to be supporting the redevelopment of the Cornhill, which will help to enhance and revitalise the town centre. As towns reopen following the COVID-19 pandemic, projects like this which make them inviting, exciting and accessible places to visit will play an important part in our recovery."
---