Big Energy Savings available in Suffolk
20 Jan 2021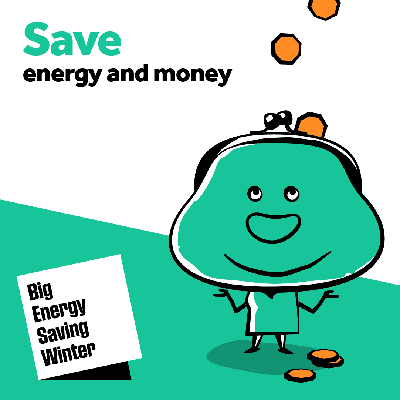 Suffolk authorities are supporting the national campaign to help people cut their fuel bills and get advice on their energy usage, as well as helping them to get any financial support they are entitled to.
Big Energy Saving Week, 18 to 24 January 2021, concludes a three-month campaign run by Citizens Advice Bureau, Energy Saving Trust and Department for Business, Energy and Industrial Strategy.
January is usually a difficult month financially for a lot of people, coming after the expense of Christmas and as cold weather pushes up heating bills. But, with many of us spending more time at home due to COVID-19, one in three bill payers* say they are using more energy than they usually would at this time of year.
This is prompting many to explore the support available, (both financial and guidance) to improve their home's energy efficiency. The free Suffolk Climate and Energy Helpline is 0800 0288 938 and there is another helpline for those most in need of additional support or helping a vulnerable relative or neighbour. The Warm Homes, Healthy People scheme number is 03456 037686.
According to the Energy Saving Trust, one of the quickest ways to make sure we're not paying more than necessary is by switching energy suppliers by using their simple tool to check and compare tariffs. They also have advisers on hand to help get any grants and benefits people might be entitled to and to look at ways to make their homes more energy efficient.
Citizen's Advice Bureau provides those struggling to afford gas and electricity bills with links to grants and benefits, and on how to deal with energy suppliers.
In West Suffolk, the council has helped people living in park homes and in rural homes get Government and energy sector funding to improve energy efficiency. Working with EDF Energy, the council has hosted virtual workshops organised with the help of the local councillor to tell rural residents with oil and LPG heating systems about a subsidised hybrid air source heat pump system. The pilot run with Gazeley and Moulton residents is now being reviewed to see if it can be rolled out to benefit other villages and hamlets. Park homes are also found in rural areas and, in this case, the council has secured Green Homes Government funding to apply exterior wall insulation, to improve energy efficiency. This funding is also available direct to households and details are available at www.greensuffolk.org and through the Suffolk Climate and Energy Helpline on 0800 02 88 938.
Big Energy Saving Winter - Check Switch Save ( link to https://bigenergysavingwinter.org.uk/ removed website no longer exists Feb 2022)
---