Suffolk residents urged to #ShakeItOut and keep recycling clean, dry and loose
25 May 2023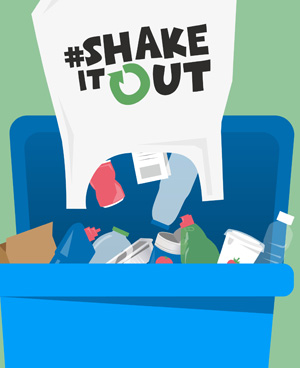 A campaign encouraging people in Suffolk to shake out their plastic bags and not to put them in their recycling bins is underway
The #ShakeItOut campaign has been launched by the Suffolk Waste Partnership to encourage households in Suffolk to help improve recycling rates across the county by making sure black bin bags and other plastic sacks are not thrown in with recyclable materials.
The Partnership, made up of the county, district and borough councils in Suffolk, says more than a quarter (26 per cent) of the materials in Suffolk's recycling bins in 2022-23 were not able to be processed as they were spoiled.
Items that contributed to spoiled recycling collections included: 
materials that were not clean and dry, or contained food and drink residue 
rubbish sacks or plastic bags containing recycling
non-recyclable items, such as nappies and food waste 
plastic bags and rubbish sacks are a particular problem – recycling handlers can't see what's inside them and they are often full of rubbish or other non-recyclable items.
This means bags are removed during the sorting process to avoid spoiling other good recycling. Any removed bags are then sent for disposal.  
Rob Cole, of Suffolk Waste Partnership said:
"We know from previous research that 73 per cent of Suffolk residents are concerned about the environment and most people want to get their recycling right.
"Our Shake It Out campaign aims to help residents better understand their recycling services and ensure items are clean, dry and loose when they are placed in their recycling bins.
"We appreciate that some households may collect their recycling in plastic bags, to make it easy to carry out. This great work can be wasted if recycling is then added to your wheelie bin in a plastic bag.
"We're urging all Suffolk residents to make sure any plastic bags used to collect recycling are shaken out into the recycling bin."
The Suffolk Waste Partnership has also released a new animation as part of the wider campaign to promote the #ShakeItOut message. The animation aims to remind households across the country of the simple measures they can take to help improve recycling: - YouTube - #ShakeItOut: Ensure your recycling is clean, dry and loose
Find out more about the #ShakeItOut campaign and for more information on recycling in Suffolk, visit: Suffolk recycling - Shake It Out
---