Climate Change achievements bringing wider benefits
26 Jul 2022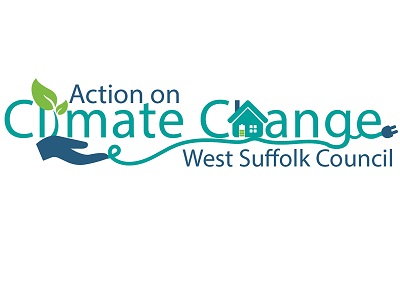 A new report shows West Suffolk Council is on course to reach its aim of net carbon zero while taking a lead in helping businesses and communities do their bit to tackle climate change.
The report to Cabinet explains how the work the council is doing to tackle climate change is bringing other benefits such as reducing fuel bills, and improving health and well being.
West Suffolk Council is a member of the influential UK100 group, the UK's only network of climate ambitious local and regional leaders committed to delivering net zero ahead of the government's 2050 target and tackling air pollution. Aligning the policies on clean air and climate will save lives and money, and West Suffolk is calling for government support to deliver cleaner air, warmer homes and a more secure future for our communities.
West Suffolk and its predecessor councils have consistently managed and reported environmental performance for almost twenty years. This is now being delivered at pace, bringing real environmental and cost-saving benefits for the council and the community, and boosted this year with a £9 million funding package to help achieve net carbon zero by 2030.
The report focuses on the council's environmental achievements over the financial year 2021 to 2022, while it was supporting businesses and communities through the pandemic. In 2010, the baseline for emissions measurement, showed the council and Abbeycroft Leisure together produced 8215 tonnes of CO2e (carbon dioxide equivalent). In 2021-22 this has reduced to 4859 tonnes.
The report shows that:
Emissions down 41% compared to 2010 baseline and down 15% compared to 2019-20
Renewable energy generated up 138% compared to 2012 and up 41% compared to 2019-20
Total owned vehicle emissions down 13% compared to 2010-11 baseline and down 9% compared to 2019-20
Business travel down 68% compared to 2010 baseline and down 51% compared to 2019-20
Total water consumption down 43% compared to baseline and down 35% compared to 2019-20
Total West Suffolk House waste down 58% compared to 2012 baseline
The recycling rate 82.34%, up 51% compared to 2019-20
Total West Suffolk House waste down 56% compared to 2019-20
During 2021-22, we held six Green Flag status parks
Public electric vehicle (EV) chargers installed by West Suffolk Council can support 67 EVs charging at the same time
Energy delivered to drivers powered 353,170miles
318 trees and 560 hedge plants planted during 2021-22
Cllr John Griffiths, council Leader, said
'Our commitment to climate change was one of our first actions as a new council and earlier this year we followed this up with a £9 million investment program. We have also set our own carbon budget to achieve net zero by 2030 and this report shows that, despite recent challenges like the pandemic and cost of living increases, we are on course. Change needs to be made across the board and we are lobbying Government for more investment, as well as offering match funding to community organisations wanting to take climate change measures. Small actions will make a big difference if enough of us take them, and we are in active discussions with our staff, residents and businesses about further steps to take. All our actions together will help safeguard our futures and we are playing our part."
Cllr Andy Drummond, Cabinet member for Environment and Chair of the Suffolk Climate Change Partnership explains,
'Every aspect of our organisation is open to review and we invite ideas from staff and residents on our own operations such as building energy, business travel, fuel use and biodiversity. But arguably even more importantly, we look at where we can use our influence to create change. For example, our procurement process now requires an environmental declaration from potential suppliers so we understand the impact of our supply chains. We are installing public EV charging points and we are driving the planning process to get energy efficiency standards built into new homes.'
Illustrating how the council-wide effort is delivering wider benefits to residents, Cllr Sara Mildmay-White, Cabinet member for Housing said,
'Global fuel prices mean more people than ever will be experiencing fuel poverty. Our successful bids for £11 million of Government funding, secured across Suffolk has already paid for some of the worst insulated homes in the county to be made warmer, reducing bills and improving health. We are now looking at the private rented sector and the measures to best enable landlords and tenants to be more energy efficient.'
West Suffolk Council has also been generating renewable energy for use by local businesses and communities. Since the council's first installation in 2012, it has installed 15,000 roof mounted solar panels on business and community roofs , with a capacity of 5MW. Welcoming interest from local businesses, Cllr Susan Glossop, Cabinet member for Growth said,
'Prosperity is a priority for West Suffolk and rising prices are putting businesses under pressure. Under the West Suffolk Solar for Business Scheme, your business can use its roof to become more resilient, at little or no cost. We design, install and manage PV (photovoltaics) cells, giving you cheaper renewable energy to use yourself, or to sell. Networks like our carbon charter group and West Suffolk manufacturing group are excellent forums for finding both solutions and a voice.'
Realising the potential within our communities, Cllr Robert Everitt, Cabinet member for Communities said,
'Volunteers played a pivotal role in fighting the pandemic, and continue to serve their communities with activities like litter picking, which helps biodiversity and the environment. For example, we have equipped about 1000 people with kit they use to keep their neighbourhood tidy, wildlife safe and creating pride in where they live. Community organisations who want to take climate change or biodiversity action can apply to us for match funding, and you can also find out about Community Chest grant funding and Locality Budget options. But the most powerful thing we can do is talk about what we are all doing, to generate ideas, options and make a real difference.'
---